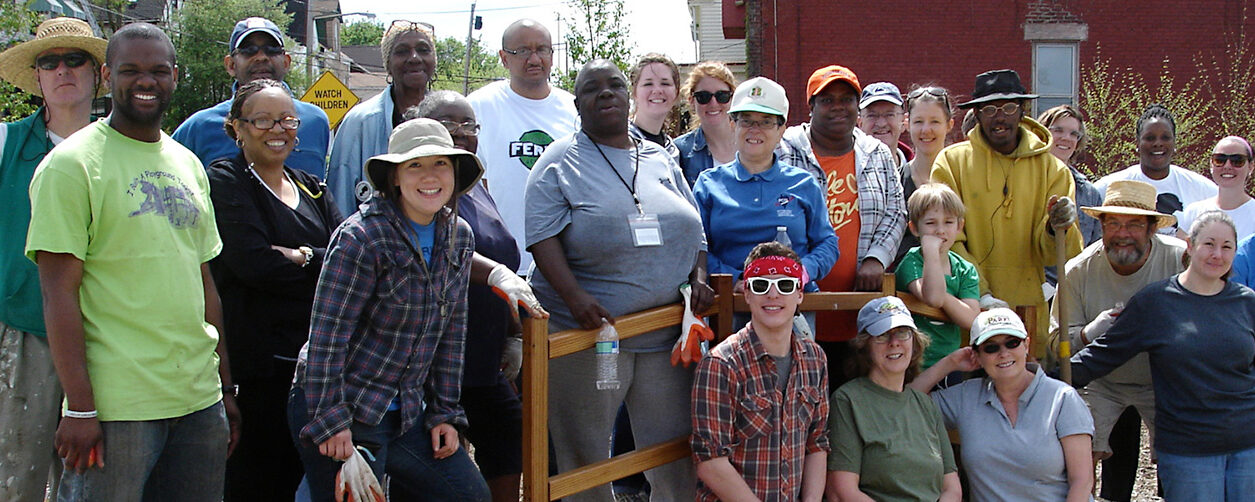 Since 2008, the Pittsburgh Studio course (LARCH 414) has given Penn State landscape architecture students the opportunity to spend a semester working with Pittsburgh community partners to address place-based issues in local neighborhoods. Distinguished Penn State professor Ken Tamminga works with students to create designs to meet the vision of community leaders and residents and improve the community's natural environment.
During the semester, students in the Pittsburgh Studio engage the community in a kick-off session to better understand their challenges, goals, and visions for sites within their neighborhood. They then conduct a half-day community review session to share concepts and obtain feedback. At the end of the studio, students present their work to the community working group, government, and business leaders.
In some cases, students' projects are incorporated into official neighborhood plans or activities. In all cases, the students provide the community with an elevated level of discussion around important issues and provide a framework for moving forward with next steps.
Pittsburgh Studio Student Projects
Each year, Penn State Center Pittsburgh helps the Pittsburgh Studio connect with local neighborhoods and solicit potential community projects. The partnership is a great example of how the Center's local connections and Penn State's skills and resources can work together to engage and support equitable and sustainable communities.
Etna–Sharpsburg Gateway
Sharpsburg Rail Trail by Elliott Kline
Kline's design for a community portal for the Etna–Sharpsburg Gateway aimed to improve safety and connectivity, minimize flooding impacts, and encourage art installation. View Elliott's project (PDF, 10 MB)
Triboro Gateways by Andrew Knerr
Knerr used important feedback from the community to design a space that would enhance the identity of the central gateway. He proposed a rubber path system, artistic pedestrian crossings, and a terraced riparian buffer next to Pine Creek. View Andrew's project (PDF, 8 MB)
Triboro Gateways by Abigail Merlos
Merlos identified important opportunities from the community when planning her design, including habitat restoration, stormwater infrastructure, safety, crime deterrence, a gathering place for teens, and design that evokes the character of the boroughs. View Abigail's project (PDF, 5 MB)
---
Ganster and Garrard Streets
Living Street of Ganster, Etna, PA by Capri Gelorme
Gelorme provided a safe and sustainable space for community activities with her design. The area included community gardening, hardscaping for multi-purpose play, and plantings for pollinators, rainwater management, and noise reduction. View Capri's project (PDF, 4 MB)
The Hill at Garrard Street by Tori Maciorski
Maciorski incorporated community gardening and native-species planting into her proposal. The design featured solar panels and small-scale wind turbines, as well as ADA–compliant trail surface paving, accessible garden beds, and a ramp system for plaza and overlook access. View Tori's project (PDF, 5 MB)
---
Girty's Woods
Girty's Woods by Drew Reisinger
Reisinger proposed redesigning aspects of Girty's Woods to create a place for future generations to preserve and love. The idea includes new trails, enhanced entrances, and a native cool-season grass prairie and meadow. View Drew's project (PDF, 4 MB)
Girty's Woods Management Concepts by Luke Early
Early proposed trail adjustments and restoration in Girty's Woods to preserve it for years to come. The proposal included ecological restoration initiatives, planting strategy, and trailhead design. View Luke's project (PDF, 12 MB)
---
Heinz Memorial Field
Heinz Memorial Field by Pamela Lien
Lien's plan for Heinz Memorial Field and the neighboring rail spur improved and promoted safety and outdoor play with green space, a welcoming entry, community garden, pollinator meadow, and other elements. The design alleviated the urban heat-island effect while considering flora and fauna habitats and stormwater management. View Pamela's project (PDF, 1 MB)
Heinz Memorial Park by Filip Malysz
Malysz revitalized Heinz Memorial Park into a valuable community space with a design including a welcome plaza, walking trails, children's garden, and sports facilities. View Filip's project (PDF, 5 MB)
---
Main and 13th Street Vacant Lot
The Community Hub by Grayce Amspacher
Amspacher focused on attracting a diverse community group to the space on 13th and Main Street. She designed an outdoor courtyard with pop-up food stands, open lawn, fire pit, bike work yard, and access to James Sharp Landing via the 16th Street underpass. View Grayce's project (PDF, 2MB)
---
North Canal Street
A Restorative Space for All: Pedestrian North Canal Street by Meghan Dunn
Dunn hoped to create a town center for residents of Sharpsburg to call their own, by proposing the pedestrianization of some streets, new business planning, and facade treatment. The design also included a rooftop haven for birds, bees, and butterflies and green roofs and walls to reduce water runoff. View Meghan's project (PDF, 14 MB)
North Canal Street: Prioritizing the Pedestrian by Anya Bielawa
Bielawa prioritized the pedestrian in her design for North Canal Street. Her idea included adding a food truck area, green roof gathering spaces, native plants, rainwater filtration evocative of the historic canal, dedicated space for street performers, and facade restoration. View Anya's project (PDF, 5 MB)
Retrofitting for the Future by Lucas Rizzo
Rizzo's design aimed to enhance the space with a retrofitted installation. The plan provides the community with outdoor recreational space, traffic calming, green infrastructure, adjacent food-based retail, and open/closed street circulation. View Lucas' project (PDF, 3 MB)