Primary Audiences
Penn State Students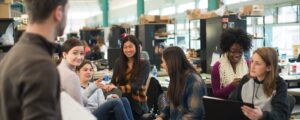 Penn State Students
-
Guiding Penn State students to career development, community engagement, and experiential learning in Pittsburgh.
Penn State Faculty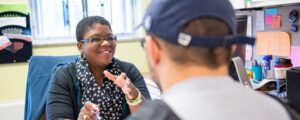 Penn State Faculty
-
Collaborating with faculty to engage communities in mutual learning, discovery, and positive impact.
Pittsburgh Community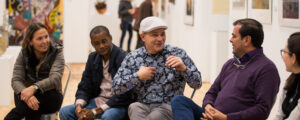 Pittsburgh Community
-
Addressing pressing community needs through collaborative impact and learning.
Community Collaborators
Collaboration is core to the operations of Penn State Center Pittsburgh, making it possible for us to provide diverse programming and community support projects throughout the Pittsburgh region. Our work would not be possible without the generous support of our funders and the strong relationships we've cultivated with our neighbors.
Funding for Penn State Center Pittsburgh is provided by Penn State Outreach through their Professional and Community Engagement (PACE) portfolio. We are grateful for the Center's supplemental operational support from Allegheny County, as well as the additional program support from a variety of private and public funders, including grants and contracts from local Pittsburgh area foundations, public agencies, nonprofits, and private donors.
We thank, in particular, Lennon, Smith, Soulereat Engineering, Inc. for funding an endowment; Partner4Work for supporting the Summer Learn & Earn Program; the Redevelopment Authority of Allegheny County and the Pittsburgh Water and Sewer Authority for funding green infrastructure projects and programs; Robert and Patty Tunno for creating and sponsoring the CITY program; and PepsiCo and Tarkett Commercial Flooring for providing funds for the Urban Sustainability Fellowship for City Semester students.
Project Partners
Penn State Center Pittsburgh is most successful when we engage with our partners in the community. In addition to collaborating with local businesses, we have recently worked with the following organizations in support of their efforts in the Pittsburgh region:
Allegheny County Conservation District
Audubon Society
Brashear Association
Breathe Project
City of Pittsburgh
Community College of Allegheny County
Global Pittsburgh
Green Building Alliance
Green Infrastructure Network
Grounded Strategies
412 Food Rescue
Just Harvest
Larimer Consensus Group & Larimer Green Team
New Sun Rising
Penn State Extension Allegheny County
Pennsylvania Environmental Council
Pennsylvania Resources Council
Pennsylvania Solar Center
Pittsburgh Food Policy Council
Pittsburgh Parks Conservancy
Pittsburgh Water and Sewer Authority
Sankofa Village Community Garden
Tree Pittsburgh
Upstream Pittsburgh
Urban Redevelopment Authority of Pittsburgh
Additionally, Penn State Center Pittsburgh is proud to hold membership in the following organizations:
African American Chamber of Commerce of Western Pennsylvania
Allegheny Conference on Community Development
Greater Pittsburgh Nonprofit Partnership
Green Building Alliance
Pittsburgh Technology Council
Sustainable Pittsburgh