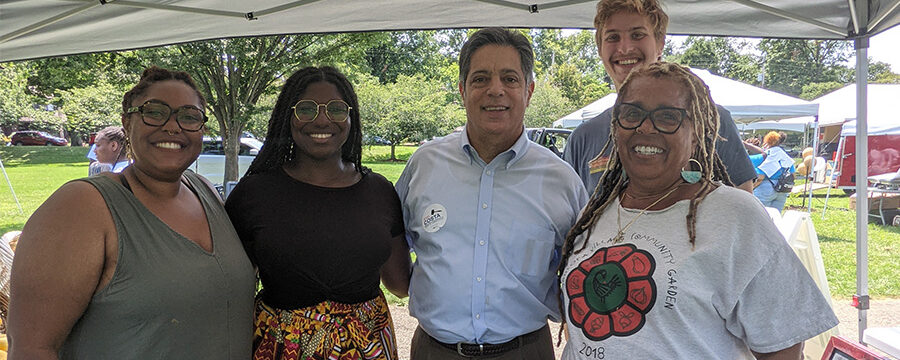 Penn State Center Pittsburgh is committed to the Penn State Outreach vision to engage and empower communities and individuals within the Commonwealth and beyond to become resilient, healthy, sustainable, and innovative.
In support of that vision, we continually work to align our efforts with Penn State's strategic priorities:
Transforming Education
Penn State will be a leader in the transformation of education, including enhancing access to it, as it fulfills its land-grant mission in a 21st-century context and continues to drive discovery-focused research across disciplines.
Enhancing Health
Penn State will be a leader in promoting quality of life through comprehensive approaches to enhancing personalized and population health, achieved through a commitment to and investment in relevant research, education, clinical practice, and outreach.
Stewarding Our Planet's Resources
Penn State will be a leader in creating comprehensive solutions to mitigate the dangers of climate change and address the challenges of providing safe and abundant water, clean and renewable energy sources, and plentiful and nutritious food.
Advancing the Arts and Humanities
Penn State will be a leader in embracing the vital role of the arts and humanities, utilizing them — along with the sciences and other disciplines — as agents of change in addressing complex global issues.
Empowering through Digital Innovation
Penn State will prepare students for success in the digital age and use digitally optimized outreach to foster economic prosperity in communities across Pennsylvania and beyond.
By the Numbers
49 Penn State students that have participated in the City Semester Pittsburgh program (over seven semesters), exploring real-world issues in sustainability and connecting with local leaders to reshape Pittsburgh's future
19 Majors represented by students in the City Semester Pittsburgh program, from the Colleges of Agricultural Sciences, Arts and Architecture, Earth and Mineral Sciences, Health and Human Development, and the Liberal Arts
153 Green industry professionals, contractors and public officials that have completed the 35-hour National Green Infrastructure Certification Program in our collaboration with Pittsburgh Water & Sewer Authority and EnviroCert International, Inc.
21 Pittsburgh neighborhoods with local stakeholders participating in Pittsburgh Studio projects with Penn State Landscape Architecture students to propose innovative place-based solutions to address community goals and challenges
100+ Pittsburgh high school students that participated in Robert and Patty Tunno's CITY (Community Innovation Training for Youth) program — an out-of-classroom learning opportunity to help them develop the skills needed to succeed academically and live a prosperous and rewarding life after graduation (from 2016 to 2021)
Our Stories
Student Engagement in Action: Gaining Firsthand Knowledge of Sustainable Architecture
Penn State New Kensington senior instructor Joan Kowalski brings her sustainability class to Penn State Center Pittsburgh each spring. Center staff give students a presentation and tour of the Energy Innovation Center (EIC), featuring the development process that resulted in the historic building's LEED Platinum certification. The tour includes a behind-the-scenes look at the state-of-the-art mechanical room with its high-efficiency condensing boilers, gas-fired combined heat and power microturbine, and thermal ice storage system to augment the building's cooling load. We discuss the design choices and the impact of building adaptive reuse and the added green infrastructure on-site.
When students are taking my sustainability course, they tour the Penn State Center Pittsburgh. On the tour, they learn about the LEED development of the EIC and how green design is effectively and aesthetically applied to the renovation of a historic structure. This provides all of the students, regardless of major, with an appreciation for sustainability as it is applied to building preservation.
Urban Research in Action: Rice's Landing Capstone Project
The Rice's Landing capstone project began with a request from Trail Town program coordinators working to support recreational tourism along Pittsburgh's three rivers. Rice's Landing, a community along the Monongahela River, has experienced tremendous sedimentation at its public boat launch along Pumpkin Run Creek, resulting in the closure of the launch and public docks until dredging operations can be completed in the area. The challenge was to design and implement solutions to reduce sedimentation in the hopes that the boat launch can be kept open permanently. The Center was able to secure this capstone project for seniors in Penn State's Biological Engineering program, working with professors Heather Gall and Megan Marshall.
Community Event: WPSU Documentary Screening
Pittsburgh Mayor William Peduto is one of more than 330 mayors across the United States who pledged to continue to align their cities with the goals of the Paris Agreement when the federal government withdrew the United States from the accord in 2017. In advance of the mayor's release of the Pittsburgh Climate Action Plan 3.0, the Penn State Center Pittsburgh hosted a screening of the WPSU documentary "Managing Risk in a Changing Climate."
The panel discussion accompanying the screening of the film was moderated by Paul Shrivastava, chief sustainability officer and director of the Penn State Sustainability Institute.  Panelists included Grant Ervin, City of Pittsburgh chief resilience officer; Rob Nicholas, managing director of the Network for Sustainable Climate Risk Management; Chris Forest, Penn State professor of climate dynamics; and Michele Halsell, director of the Penn State Sustainability Institute Sustainable Communities Collaborative.