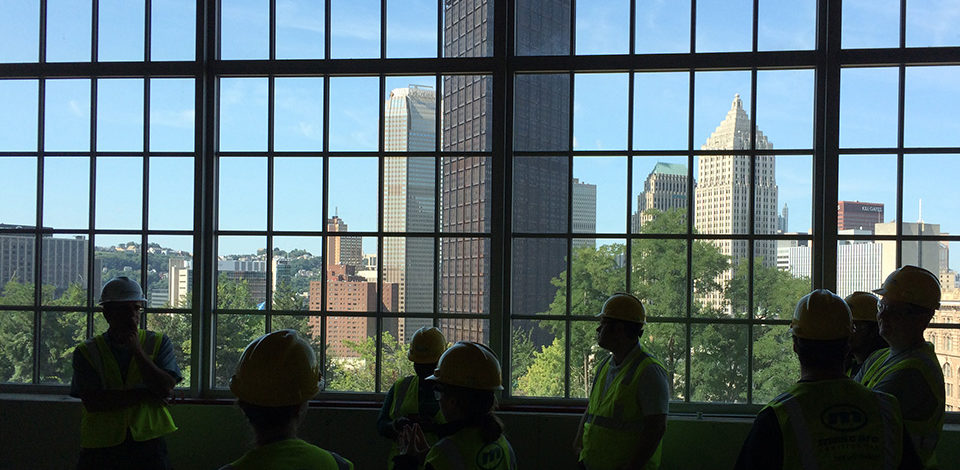 City Semester Pittsburgh benefits both Penn State students and local community partners. As community partners, local organizations and businesses will host Penn State students in credit internships in the area of sustainability and resiliency.
City Semester Pittsburgh matches community partners with knowledgeable, capable students from Penn State academic programs including business; communications; community, environment, and development; earth science and policy; geography; health and human development; landscape architecture; marketing; recreation, park, and tourism management; and sustainability leadership.
If you're interested in becoming a community partner, please complete the Partner Application or contact us at psu-pittsburgh@psu.edu.
Frequently Asked Questions
How many hours per week will the student be available for community placement work?
The community partner placement is typically a 20-hour internship but may be adjusted based on the student's academic needs for the semester, the student's availability, and the scope of work you require as a community partner. Due to their course obligations, we ask that you not schedule work for the students on Mondays. Otherwise, you are free to establish an agreed-upon schedule with the student.
How many students will be placed per community partner and/or project?
Depending on the number of interested community partners, scope of work for projects, and availability of qualified students, it is possible for more than one student to be placed with a single community partner. A separate application is required for each request. Penn State will provide you with the student intern who is best matched with your company or organization to carry out the desired scope of work for your project.
If placed with a community partner, will the students be paid?
Internships may be paid or unpaid or come with stipends. We expect each community partner to treat our student interns per their own organization's internship policy. If unpaid, we ask (but don't require) that you provide the student with a $500 to $750 stipend directly, which we supplement with limited fellowship money we raise to offset the student's cost for the summer.
Who matches the student with a community partner's needs?
Penn State Center Pittsburgh staff carefully offer you the best student match based on your scope of work, specific project, and the student's interests, skills, experience, and expertise. Penn State students come from a variety of programs and majors and/or the Sustainability Leadership minor, with a specific interest in urban sustainability.
If there are human resources (HR) or performance issues, who is responsible?
The City Semester manager at Penn State Center Pittsburgh, in collaboration with the Penn State faculty internship coordinator, will address any HR or performance issues identified by the community partner.
Are there any other requirements of the community partner?
In addition to meeting the internship placement requirements, the Penn State City Semester Pittsburgh program expects community partners to:
participate in an orientation lunch meeting on the first Monday of the semester
respond to the City Semester Pittsburgh manager for two midterm check-ins during the semester and/or inform the manager of any HR or performance issues with the student, as necessary
provide an assessment of the student's performance in accordance with the internship requirements
complete a brief post-placement program survey to inform the City Semester program
attend the end-of-semester student presentations held from 4:00 to 6:00 p.m. at the Penn State Center Pittsburgh. More details regarding the date of this event will be forthcoming.
During community placement, who is responsible for liability? Are there any restrictions placed on where a student can work or the work content?
The University's insurance does not extend to cover the student's actions while the student is working for the community partner. If the community site requires liability insurance, the site needs to inform the student of this requirement as soon as possible so that the student can purchase the required insurance and verify that it was purchased.