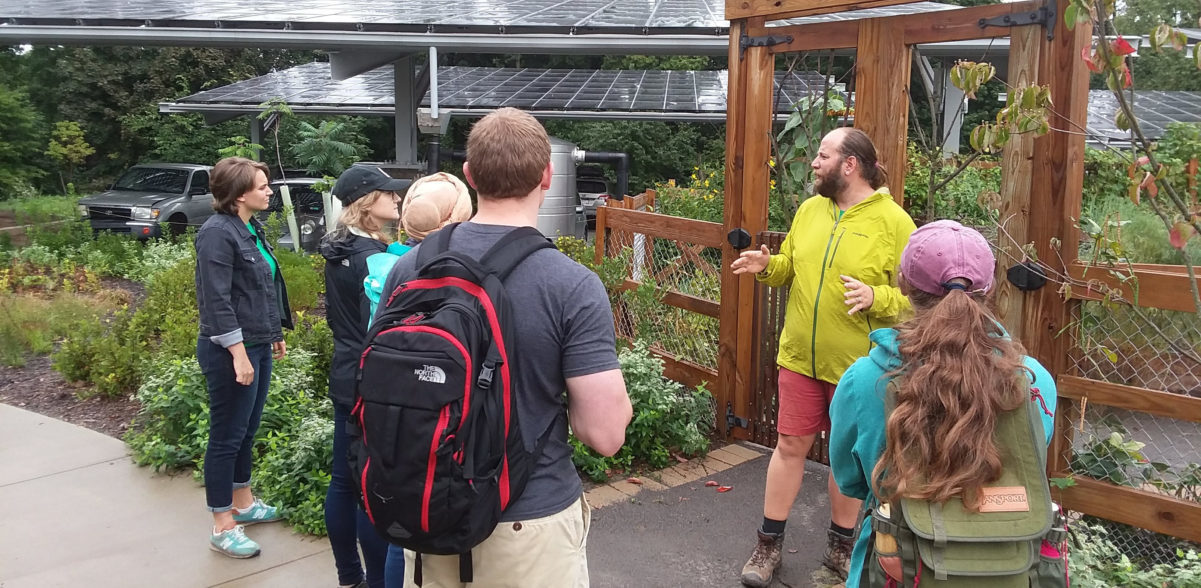 Penn State's City Semester Pittsburgh program gives students the opportunity to spend an entire semester in the City of Pittsburgh, living in the downtown's golden triangle, studying urban sustainability, interning with a local partner, and making valuable connections to community leaders and potential future employers. City Semester students will be active participants in Penn State's efforts that align with the United Nations Sustainable Development Goals to improve quality of life in metropolitan areas.
The program is offered in the spring, summer, and fall semesters.
Program components
Community internship — City Semester students are placed with a prominent community partner to complete an embedded field experience. This internship is typically 20 hours per week but can be tailored to meet specific academic program requirements. Students are matched with community partners based on placement preferences, career interests, and applicable skills.
Urban sustainability course — Participants are enrolled in a 3-credit course on urban sustainability taught at the Penn State Center Pittsburgh. The course shares the relevance of sustainability across all disciplines and features readings and videos, prominent guest speakers, and engaging field trips to build on students' internship experiences.
Additional course work — City Semester students can round out their semester by taking additional online courses or participating in independent study to fulfill their major or minor requirements.
Pittsburgh life — One of the most livable cities in the United States, Pittsburgh is known internationally for its leadership in addressing issues of urban sustainability and resiliency and is the perfect place for students to make an impact. Learn more about living and working in Pittsburgh.
Who can apply
Penn State students of any major/minor are invited to apply. The program is open to students in good standing who will have achieved sophomore status by the semester in which they will participate.
If you are interested in participating in City Semester Pittsburgh, you should meet with your academic adviser to determine how the credits earned during this semester will fit with your specific major or minor. While the program is designed to be flexible and meet the needs of a variety of majors and minors at Penn State, it is especially well suited for the Sustainability Leadership minor.
There is not a single academic pursuit that does not need sustainable development.
How to apply
Penn State students interested in the City Semester Pittsburgh program must follow the online application process. 
The application includes:
Personal statement: a two-page statement outlining area(s) of study and career interests; explaining how the program could benefit your academic work, what you would contribute to the program, and what your ideal internship experience would be.
Résumé including prior work experience, previous community experience, skills (research, communication, technical and analytical, foreign language, etc.)
Letter of recommendation from a faculty member in your major or minor
Program and application deadlines

| Semester | Fall 2020 | Spring 2021 |
| --- | --- | --- |
| Student application open | Closed  | Monday, August 31 |
| Early deadline for priority placement | Wednesday, March 18 | Friday, October 23 |
| Final application deadline | Wednesday, April 8 | Friday, November 6 |
| Students matched with partners | Wednesday, April 15 | Friday, November 20 |
| Classes and program begin | Monday, August 24 | Monday, January 11 |
Program costs
Students enrolled in City Semester Pittsburgh will pay Penn State University Park tuition and fees. There is also a modest program fee to cover the costs of field trips. Meals, books, and incidental expenses are not included in the program fee and are the responsibility of the student.
Student health insurance requirement
The insurance requirement for students taking courses off campus is the same as students taking courses on campus.
Want to learn more?
View a recent online Information Session Presentation.
Check out past Student Spotlights.