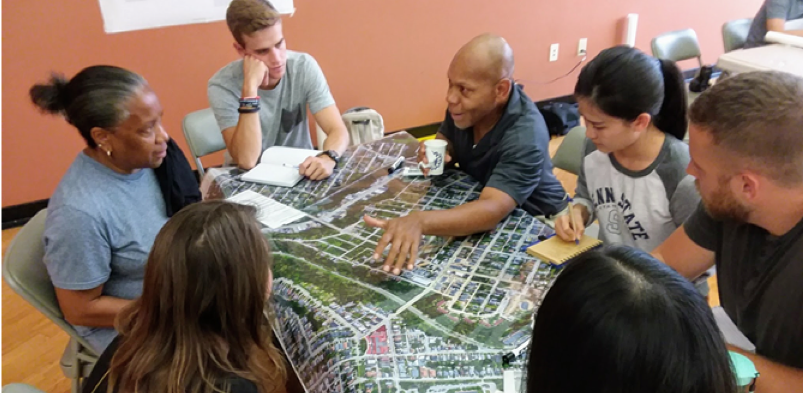 Anthony Mitchell
Political Science major
Class of 2017
Community partner — Urban Redevelopment Authority (URA)
Anthony Mitchell's work with the URA addressed property stabilization in several Pittsburgh neighborhoods. Collaborating with a broad range of community stakeholders, this project's urban sustainability strategy encompassed public policy, local infrastructure and civic engagement. Following his graduation, Anthony's networking in Pittsburgh helped him land a position with the Congressional Black Caucus in Washington, D.C.
Erifili Draklellis
Earth Science and Policy major, Sustainability Leadership minor
Class of 2019
Community partner — Pennsylvania Environmental Council (PEC)
Erifili Draklellis worked with PEC staff on a Pennsylvania Department of Conservation and Natural Resources (DCNR) Conservation Landscape Initiative. By assessing local and regional assets, compiling economic impact information, and conducting research and resource inventories for a newly designated conservation landscape, this project connected environmental resources with community well-being and economic sustainability.
Jordyn Hinkle
Earth Science and Policy major, Sustainability Leadership minor
Class of 2020
Community partner — Green Building Alliance (GBA)
In Jordyn Hinkle's work on the Pittsburgh 2030 District Progress Report, she applied her Earth Science and Policy major and minor in Sustainability Leadership by collecting and analyzing energy performance and indoor air quality data; assisting building owners in complying with Pittsburgh's building energy performance legislation; and engaging in strategic outreach for GBA's Make My Trip Count survey, which aims to reducing vehicular emissions throughout the Pittsburgh region.
Demi Badejo
Health Policy and Administration major
Class of 2019
Community partner — Center for Victims
Demi Badejo's placement at one of Center for Victims' residential facilities for women and children involved providing critical support to those in need of safe housing assistance and comprehensive services. A Health Policy and Administration major with a minor in Women's Studies, Demi examined affordable housing as a sustainability imperative, revealing a study that showed that 57% of women experiencing homelessness report domestic violence as the immediate cause.
James Tierney
Geosciences major
Class of 2020
Community partner — Allegheny County Conservation District (ACCD)
James Tierney thought his work as a Geoscience major would mean "him, his soils, and pollution," but came to understand that "it really was about people." By initiating ACCD community outreach events and conducting soils assessments for local community organizations, his work with the Urban Agriculture and Soils Program guided policy research and informed decisions on the reuse of vacant land for neighborhood initiatives in Pittsburgh.
Jamie Parke
Community Economic Development graduate student
Class of 2019
Community partner — Fourth Economy
Fourth Economy engaged Jamie Parke, a Community and Economic Development graduate student, in a community planning project focused on Andrew Carnegie's first library, the Braddock Carnegie Library, built in 1889. The library was saved from demolition 40 years ago and has been extending its role as community anchor. The project sought resident input on the library's future use and connection to the community to create greater social capital and equity for the city's sustainable future.