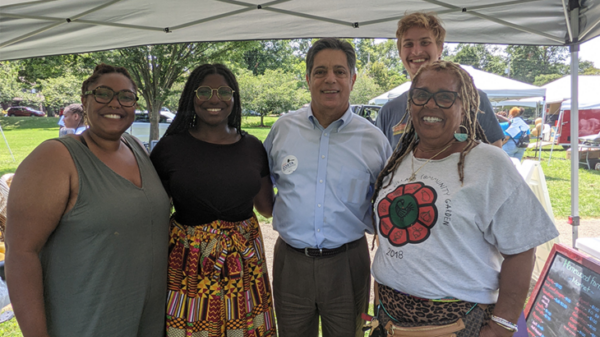 PITTSBURGH — Penn State student Capricia Williams said she learned something this past semester that she could not find in a book, or a classroom. Williams, an animal science major in the College of Agricultural Sciences, said she was searching for her niche, and her internship with Sankofa Village Community Garden — part of her enrollment in the City Semester Pittsburgh program — opened the door for her to find it.
"My first day with Mama Ayanna Jones, CEO and founder of Sankofa Village Community Garden, opened my eyes to the issues and realities caused by food apartheid," Williams said. "These lessons are not the ones you would hear in class or documentaries. Her personal account as a member of the Black Panthers, Black Liberation Army, and a resident of Pittsburgh has shown me the changes in employment, housing, and food access in the Black community."
Jones said the garden in the Homewood neighborhood of Pittsburgh is not your typical farm. It's a place where people are introduced to sustainable farming, where they can heal and have a voice, and where food is grown to teach — not to sell.
"Teaching people to farm solves so many problems. They learn to respect the Earth and to grow their own food. If you can feed yourself, no one can manipulate you," Jones said. "The younger students are like sponges, eager to learn, dig into the dirt with no apprehension. We rent out bikes and helmets to them and their word is bond. Four hours of bike riding for four hours of garden work. Some children are now building their own bikes and teaching others how to do it. We also have a Worm Farm and Keelin's Place, a garden designed for autistic children that is named after my grandson."
Williams' responsibilities included prepping the farm for the arrival of "Farm from a Box," a self-sustaining unit that enables Sankofa Village Community Garden to preserve produce in cold storage, water raised beds with a drop irrigation system, and use appliances with electricity generated from solar panels. Williams worked with other students from the Learn and Earn program, Student Conservation Association, and those who visited the farm to participate in a culinary workshop using vegetables and herbs picked from the garden and learn more about Black urban agriculture.
"During my internship, I met with Pennsylvania Agriculture Secretary Russell Redding, state Senator Jay Costa (D. Allegheny), T. Rashad Byrdsong, CEO and founder of Community Empowerment Association, and other community leaders," Williams said. "I can share the relationships I cultivated with my fellow members of Minorities in Agriculture, Natural Resources, and Related Sciences (MANRRS) so they too can experience a unique aspect of agriculture and opportunities in Pittsburgh."
City Semester offers a variety of community nonprofits to collaborate with during the semester.
Brianna Bennett, a biobehavioral health major in the College of Health and Human Development, and Charlotte Schmitt, a landscape architecture major in the College of Arts and Architecture, worked as interns with the Brashear Association — a nonprofit organization offering social service programs to the Hilltop Communities of Pittsburgh. Bennett said her role was in community outreach and planning for the vacant lot beside the new Brashear CARES Community Center opening in September 2021.
"Charlotte and I attended community council meetings and engaged city representatives and members of the Knoxville and Mt. Oliver neighborhoods to gain insight into their wants and needs," Bennett said. "The vacant lot has the potential to be a multi-use outdoor recreation space for patrons of the Brashear CARES Center, and we wanted to make sure the changes made to the space were for the greater good of the community."
City Semester registration is open for spring 2022, and fellowships for students are available. Summer semester fellowships were funded by PepsiCo and Tarkett Commercial Flooring.