Sustainability is the possibility that humans and other life will flourish on the Earth forever
During a recent session of our City Semester Urban Sustainability class, students read Sustainability by Design: A Subversive Strategy for Transforming Our Consumer Culture, by Ehrenfeld, and discussed the roots of unsustainability and possible ways to address it. They then identified their own unsustainable patterns and explored ways they can adopt more long-term, eco-friendly practices in their everyday lives.
Here are just ten changes some of the students came up with to make at home, at school or at work to live a more sustainable lifestyle.  
Buy reusable products, such as grocery and produce bags, silicone straws, k-cups, kitchen and paper towels and more. Not only are these items better for the environment, but they can also help you save money and stay healthy.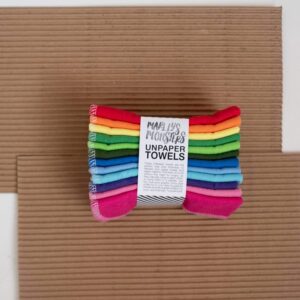 Carpool and bike when you can. "Living in a suburban environment, it can be really frustrating that nothing is in walking distance, public transportation is almost non-existent, and there is not a single bike lane in my community. While I aspire to live in a different environment in the future, I also understand that this is my reality for the time being and have tried to be creative in adapting to it. I was previously making a six-mile drive almost daily to my gym, but have since tried to ride my bike there when weather (and stamina) permits. This also allows me to get my cardio in while reducing money spent on gas. Another big change I have been trying to make is carpooling when possible. When going out with friends, I have been trying to coordinate and plan the most efficient routes using one car. Not only is it reducing our gasoline consumption, but we have all found that we have more fun when we go someplace together. While the differences may be small, I do believe that it is important to get into the mindset of accounting for our action's impact on the health of our planet. Starting small may also set the stage for more noteworthy or profound changes in the future." – Luke Babik (International Politics major, Spanish and Sustainability Leadership minor), City Semester, Summer 2021

Ditch single-use plastic items that contribute to marine and land-based pollution. Try out items like beeswax wrap paper instead of cling wrap, stainless steel water bottles instead of plastic bottles from the grocery store, and bamboo utensils instead of grabbing plastic ones with takeout. Avoiding single-use plastic can help reduce the waste in landfills and greenhouse gas emissions.
Be a better consumer. Shopping small can make a big impact on the local community and economy. Students in the City Semester class cited shopping for clothing at local thrift stores rather than spending money with fast-fashion brands and ordering from major online corporations. Bonus: check out re/make for "a conscious consumer movement to turn fashion into a force for good."
Use sustainably-sourced hygiene and household products, such as shampoo bars, laundry soap, stainless steel razors, and bamboo toothbrushes. "Although I am currently using all-natural shampoo and conditioner, and the packaging is made from 100% recycled plastic, I know I can reduce my waste even further. That is why I plan to purchase shampoo bars when I have used up my current products. I am excited to do my part!" – Brianna Bennett (Biobehavioral Health major, Crime/Law/Psychology minor), City Semester, Summer 2021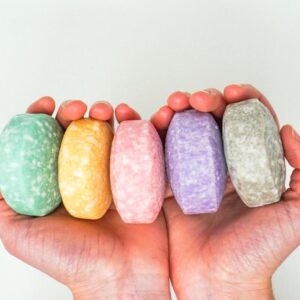 Reduce waste. There are so many little ways to reduce waste – save food leftovers for later, use a digital version of something instead of printing paper, buy in bulk to reduce packaging waste, recycle as much as you can, opt for email receipts, buy reusable products (see above) and composting (see below…).
Try out composting. "Now that I'm growing my own vegetables on my apartment balcony, I have started to compost at home. I keep a small bin outside with my plants and any scraps or expired food goes inside. Adopting this habit has allowed me to feel better about my contribution to the landfills, and I love knowing that the nutrients are getting returned to the earth. Since staring, I've noticed the health of my plants dramatically increase. My next goal is to get my parents to start doing the same thing at home." – Morgan Vonada (Earth Science and Policy major, Sustainability Leadership minor), City Semester, Summer 2021

Eat local and sustainable produce from local grocers, farmers markets, or your own garden. When you buy locally, it supports local farms and eliminates the need for your food to travel thousands of miles; which in turn reduces our dependence on fossil fuels, air pollution and greenhouse gas emissions. And while you're here, check out this article on sustainable agriculture.
Be an advocate for change. Change can be small and everyday actions (like this list), or it can be encouraging lawmakers to make bigger changes to the system. Find something you're passionate about and call or write to your local legislators and let them know what changes you want to see. Students in City Semester voiced their frustrations with many states in the US (including Pennsylvania) allowing single-use plastics, while Canada and many countries in Europe have banned it. If you agree, check out PennEnvironment's Zero Waste PA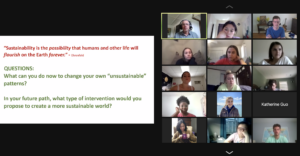 Learn! Sustainability is not a new concept, but it is everchanging. Keep up to date on the latest news and trends to understand the impact of living a more sustainable lifestyle. Find national and local organizations providing education and action, like Sustainable Pittsburgh, Breathe Project, and Our Climate Our Future. Follow green living accounts on social media, like Rob Greenfield, Kathryn Kellogg, and Sara Miltenberger (from Pittsburgh!). And of course, if you're a Penn State student, apply to be a part of City Semester Pittsburgh.