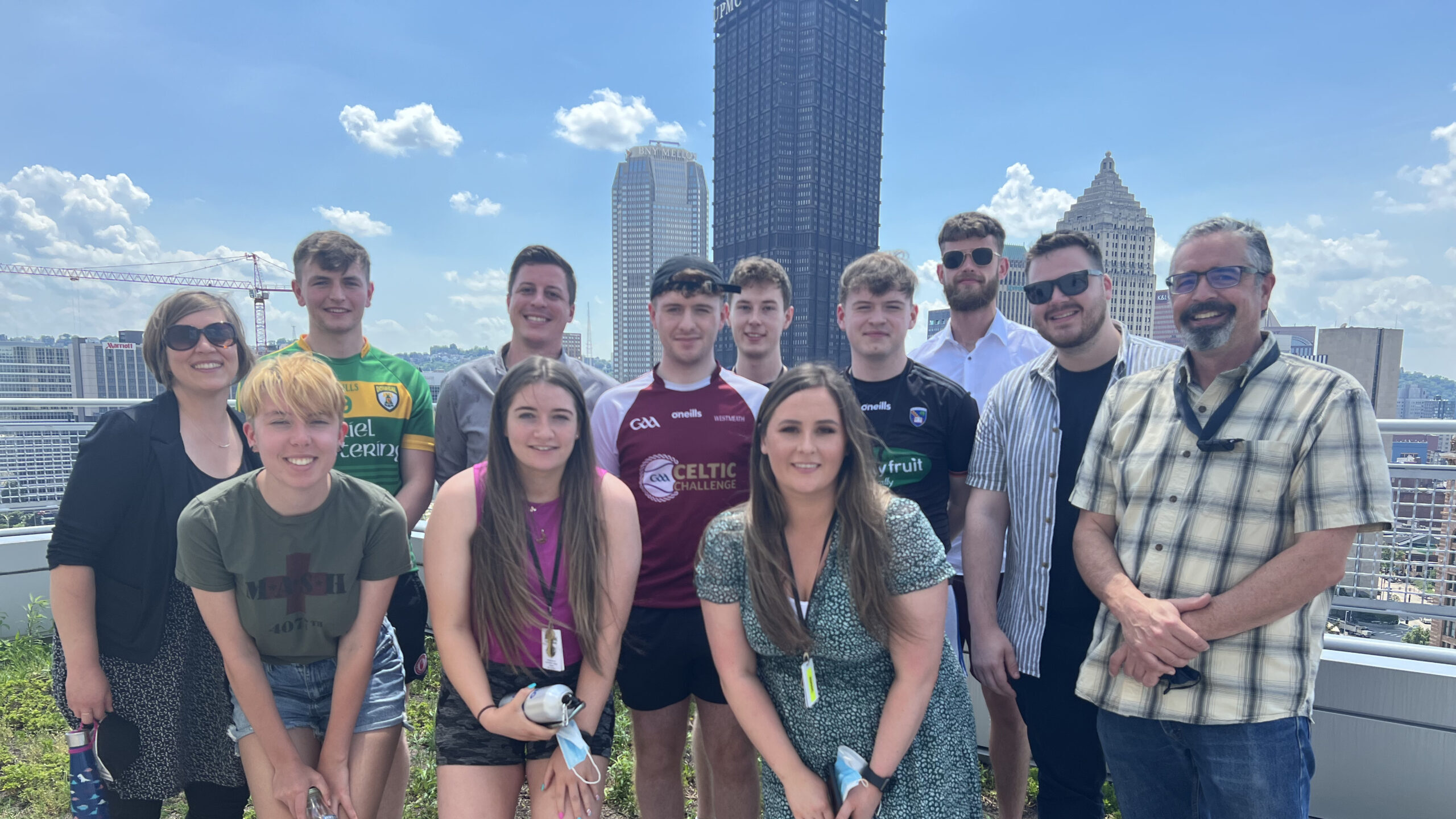 2022 was a reinvigorating year at the Penn State Center Pittsburgh — full of immersive learning experiences, exploring new sites around the city, making connections with communities, and more. Our team reflected on some of the important things we accomplished and watched our partners accomplish in 2022, and we're looking forward to more collaboration among Penn State and Pittsburgh communities in 2023.
2022 by the Numbers
19 college students participated in Penn State Center Pittsburgh programs, spending 4,500 total hours.
104 college students were engaged through visits and learning experiences in Pittsburgh.
9 Penn State faculty members were part of the college engagement experiences.
23 Penn State core-team researchers were engaged in 3 community-based projects.
10 community partners hosted student interns.
15 local green infrastructure professionals gained deeper knowledge of sustainability.
16 workforce development trainees enhanced their learning in collaboration with Landforce.
111 adult community members engaged in noncredit programs and other learning experiences.
Student Engagement and Faculty Collaboration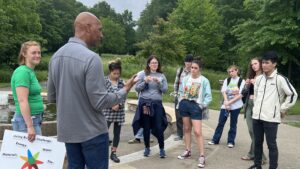 Over the summer, the Center hosted its eighth semester of City Semester Pittsburgh, with 11 Penn State students, including 8 in-person and 3 virtual. Participating students hailed from 6 colleges and 8 majors across the University, with 6 students pursuing sustainability leadership minors. This reinforces the notion that sustainability affects all industries and areas of study. Throughout the semester, City Semester students joined together for the EARTH 412 Urban Sustainability course taught in the Penn State Center Pittsburgh classroom at the Energy Innovation Center. Tom Bartnik, director at the Center, taught the class and covered topics like the social and economic challenges of sustainability, practical applications, urban housing and food production, climate justice, policy, and more. A big thanks to several guest speakers for joining us!
The second component of the City Semester program — community internships — placed students with organizations including Green Building Alliance, Riverlife, Audubon Society of Western PA, PA Solar Center, Covestro, Pittsburgh Department of City Planning, Tree Pittsburgh, LaQuatra Bonci Associates, and Grounded Strategies.
City Semester students also had an opportunity for a group field trip to several sustainable sites around the city, including Phipps Center for Sustainable Landscapes, Frick Environmental Center, and Tree Pittsburgh. They toured the facilities and learned about sustainability design, living buildings, and how the mission of each organization relates to sustainability. And of course, the group got a chance to see the Pittsburgh Pirates in action at PNC Park!
Learning about urban sustainability is a human asset, not an environmentalist asset. People in communications, business, engineering, or even medicine could gain valuable experiences and information from this program. We can never have too many people caring and being conscious of the environment and the world around us.
Another exciting student engagement initiative at the Center was the inaugural High-Performance Building Summer Camp, in conjunction with Penn State's Global Building Network and South West College in Northern Ireland. Students and faculty from Penn State and South West College spent three weeks in Pittsburgh exploring fundamentals of high-performance building design and construction principles. Participants spent time in the classroom with hands-on activities and in the community touring local sites (like Fallingwater, the Passive House certified Carnegie Library of Pittsburgh – Carrick, Chatham University Eden Hall campus, and the LEED Gold Children's Museum of Pittsburgh's MuseumLab).  They also joined City Semester students for the Pirates game and witnessed PNC Park's first-ever drone laser light show.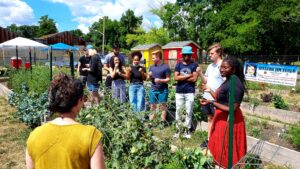 Throughout the year, we welcomed several Penn State faculty members and student groups to the Center and showed them what makes Pittsburgh one of the most resilient cities in the country. We explained to InnoBlue how the development of the Energy Innovation Center relates to entrepreneurship, took MANRRS students to tour some key agricultural sites around the city, and guided the GeoPeers group (led by Professor Maureen Feineman from the Penn State College of Earth and Mineral Sciences) to environmental locations highlighting the nexus of food, water, and energy. We also worked with Assistant Teaching Professors Laia Celma and Brian Peterka for their third-year architecture design studio, touring two fire stations, the Frick Environmental Center, and a project site for their assignment of developing a fire station on a sloped site in the city.
Community-Based Research
The Penn State Center Pittsburgh provided community-based research support as we actively engaged local community partners and stakeholders with several research teams across several disciplines, including kinesiology, landscape architecture, meteorology, engineering, forestry, and architecture.
There were three research projects in 2022, which included a total of 23 core research team members:
IEE Seed Grant: Community engagement and interdisciplinary collaboration to direct air quality research at industrial sites near Pittsburgh
IIE See Grant: Connecting policies to actions for creating equitable, biodiverse, and climate-resilient urban forests
NSF CIVIC Grant: Leveraging existing fiber-optic cables to identify and manage urban environmental hazards
Community Connections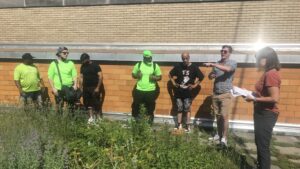 The Center spent a lot of time in the Pittsburgh community this past year. Our National Green Infrastructure Certification Program (NGICP) continued to educate local practitioners on green infrastructure and stormwater management. David Himes, certified instructor for the course and Sustainable Communities Manager at the Center, taught 15 professionals during the spring session and 16 workforce development trainees in collaboration with Landforce — a nonprofit working to provide skilled crews to maintain existing and future environmental projects in the city. David guided class discussions to better understand the shortcomings of traditional stormwater management infrastructure and the opportunities of green infrastructure. They also visited local sites, including green roofs, complete streets, and some of Pittsburgh newest playgrounds implementing green stormwater infrastructure — Wightman Park and Liberty Green.
The program gave our staff an elevated baseline and additional tools that will translate to a more sophisticated review of designs and permit applications. It also enhances field work by providing real life examples of well-designed projects that include green infrastructure.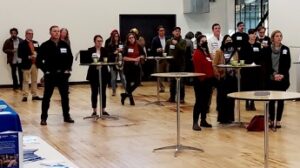 This past fall, we joined the Sustainability Institute and Penn State Outreach to host the first ever Sustainability Social — which sparked valuable conversations and connected likeminded individuals in a celebration of the resiliency of Pennsylvania. More than 40 professionals across PA joined the gathering at the Energy Innovation Center for a night of networking, brief remarks by local leaders, and a tour of the LEED Platinum Energy Innovation Center with Tom Bartnik. Much of the evening focused on collaboration and seeking to catalyze new opportunities for creating a sustainable future in our region.
As one attendee put it, "Events such as this one gives me hope about arriving at a more sustainable society in the future."
Looking to 2023
We have so much to look forward to in 2023! We will once again host our City Semester Pittsburgh program with a new cohort of students (applications are due March 15!), invite even more students from Penn State and Northern Ireland to participate in the High-Performance Building Summer Camp, and help to pre-qualify local professionals with NGICP. We hope to continue events and conversations with the Sustainability Social, form more partnerships, and welcome more Penn State faculty, students, and community members to collaborate on projects and engagement.
Through it all, our focus stays the same — to support healthy, sustainable, innovative, and equitable communities
Ways to Get Involved with Penn State Center Pittsburgh