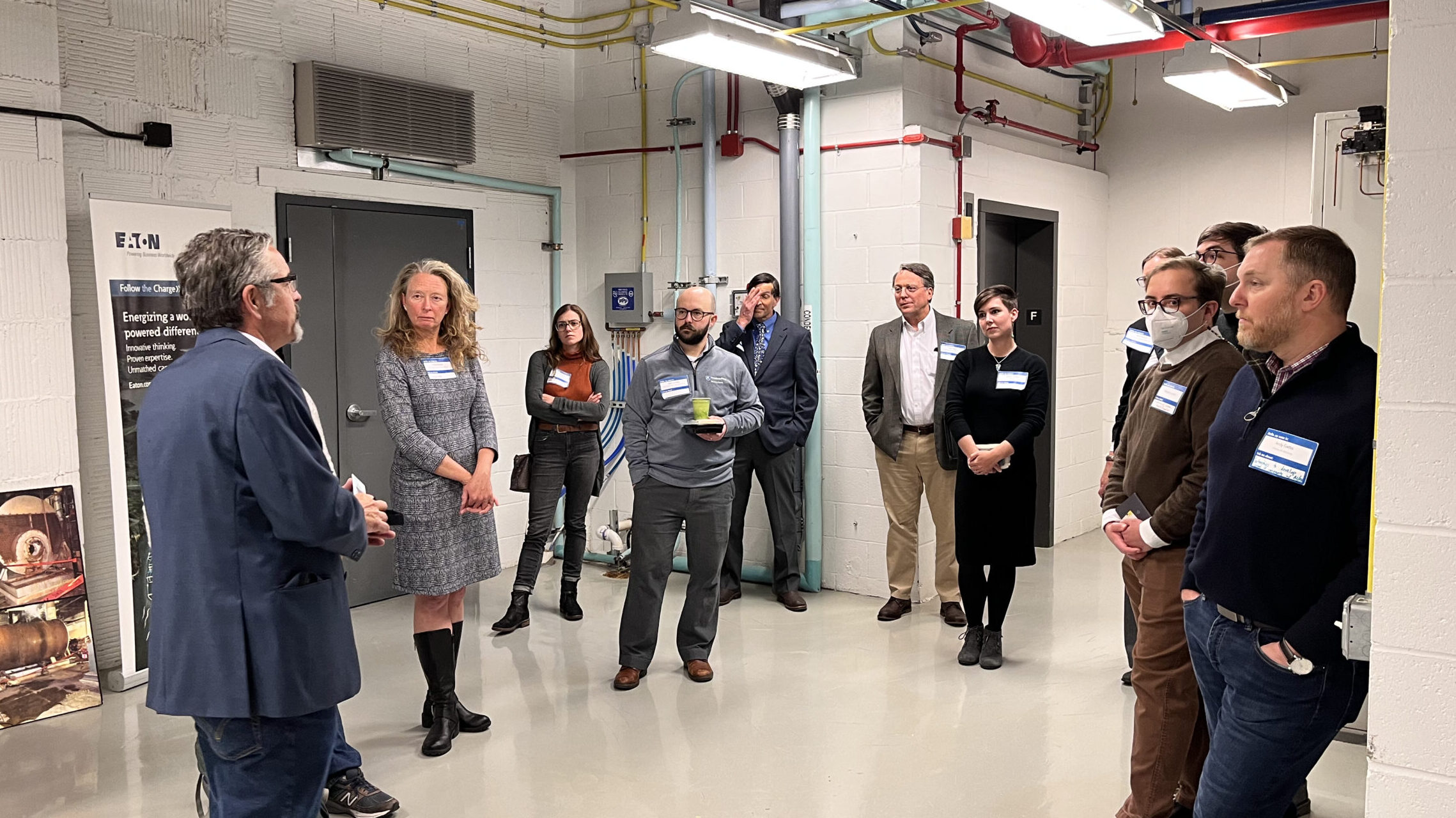 Last month, community members and leaders joined in a celebration and conversation about the resiliency of our region during the first ever Sustainability Social event, hosted by Penn State Outreach, the Penn State Sustainability Institute, and Penn State Center Pittsburgh. The event took place on Tuesday, November 15, at the Energy Innovation Center, home to the Penn State Center Pittsburgh.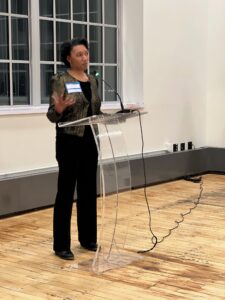 The mix of attendees and industries present helped to celebrate the diversity of partnerships working toward resilient Pennsylvania communities. More than 40 professionals attended the event, including civic and government leaders, businesses and foundations, community groups, local universities, and Penn State faculty, students, and alumni. Though more than 70 individuals had registered for the event, weather kept many — especially those traveling from State College — from attending that evening.
The event included networking and brief remarks by local leaders, followed by a tour of the LEED Platinum Energy Innovation Center with Tom Bartnik, director of the Penn State Center Pittsburgh. Much of the evening focused on collaboration and seeking to catalyze new opportunities for creating a sustainable future in our region.
"Pennsylvania is an energy state and contributes to one percent of global greenhouse gas emissions," said Lara Fowler, interim chief sustainability officer at Penn State and interim director of the Sustainability Institute. "So, if we can figure out how to make sustainable changes in Pennsylvania and build resilient communities here, we can have an even bigger impact and serve as a global model."
The evening included brief and inspiring remarks from Fowler as well as Leslie Montgomery, vice president of education and communications at Green Building Alliance, and Joylette Portlock, executive director of Sustainable Pittsburgh.
Montgomery emphasized the importance of partnerships, especially as Green Building Alliance works to support sustainable buildings. She mentioned how buildings are a critical part of sustainability; we spend about 90 percent of our lives indoors, and buildings contribute a large percentage of our total energy usage, greenhouse gas emissions, and stormwater runoff.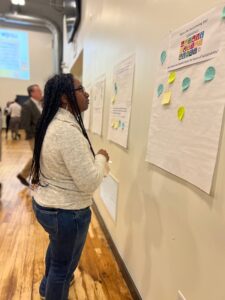 During her remarks, Portlock also mentioned partnerships as an integral part of addressing climate change and making sure we are embracing communities as equal partners who help direct our agenda and solutions.
Throughout the evening, attendees were encouraged to respond to a series of questions displayed on poster boards around the room. A few of the questions and responses included:
What does Pittsburgh need from Penn State researchers?
Good data
Assistance in warehousing and analyzing data
Access to analytical equipment (soils, water, air quality monitoring) to gauge environmental impacts of industry
Connections to folks who are fired up about addressing racial disparities in health and economic outcomes
For pressing resilience/sustainability issues or initiatives in Pittsburgh, what kind of collaborators or other resources are needed?
Develop our alumni network to dialog about sustainability interests and needs
More policy-level action and focus (How can we get support at the city/higher ed/medical institutions level?)
Better public transportation and more bike paths
Carbon sequestration and storage modeling for various urban land use patterns
Workforce development in clean energy jobs
Community partnerships as a method for gauging community interests
Pilot-project funding
Urban forest assessments (biodiversity/abundance)
What research problems would benefit from joint funding applications between local partners and Penn State and/or other higher education institutions?
How to move the environment up on peoples' political agendas
City planning, particularly public transport utilization numbers and improvements survey
How do conventional beauty standards affect sustainable development?
Where should we be building new? Where should we be infilling? Where should we never build? Should we tear down?
Materials for the architecture, engineering and construction industries. How can we find and develop better materials for the built environment?
City-scale waste handling (particularly biological wastes)
What makes you hopeful about the future of sustainability?
Greater knowledge in young people
That regular folks are starting to pay attention
Creativity and collaborations
Sustainability never leaves the forefront of so many people's minds
The future is often so unknowable — progress and possibility can happen just as likely as destruction, despair, or gridlock
Events such as this one gives me hope about arriving at a more sustainable society in the future. In particular, hearing echoes of recognition for the tilt of the playing field in terms of outcomes for poor, brown, unhoused, immigrant, and other oppressed communities, as opposed to the outcomes available to individuals more privileged by the structure of capitalism/commercialism.
Future events with the Sustainability Social team will aim for similar outcomes — sparking engaging conversations and forming potential partnerships that will work toward creating positive change in the Pittsburgh community and beyond.
As the Sustainability Institute enters its 10th year, SI staff are exploring what might come next. Feedback from this event and other listening sessions will be used to help shape that vision and action plan. If you want to learn more, please sign up for Mainstream, Penn State Sustainability Institute's regular newsletter.
If you have questions, contact Tom Bartnik at twb24@psu.edu.