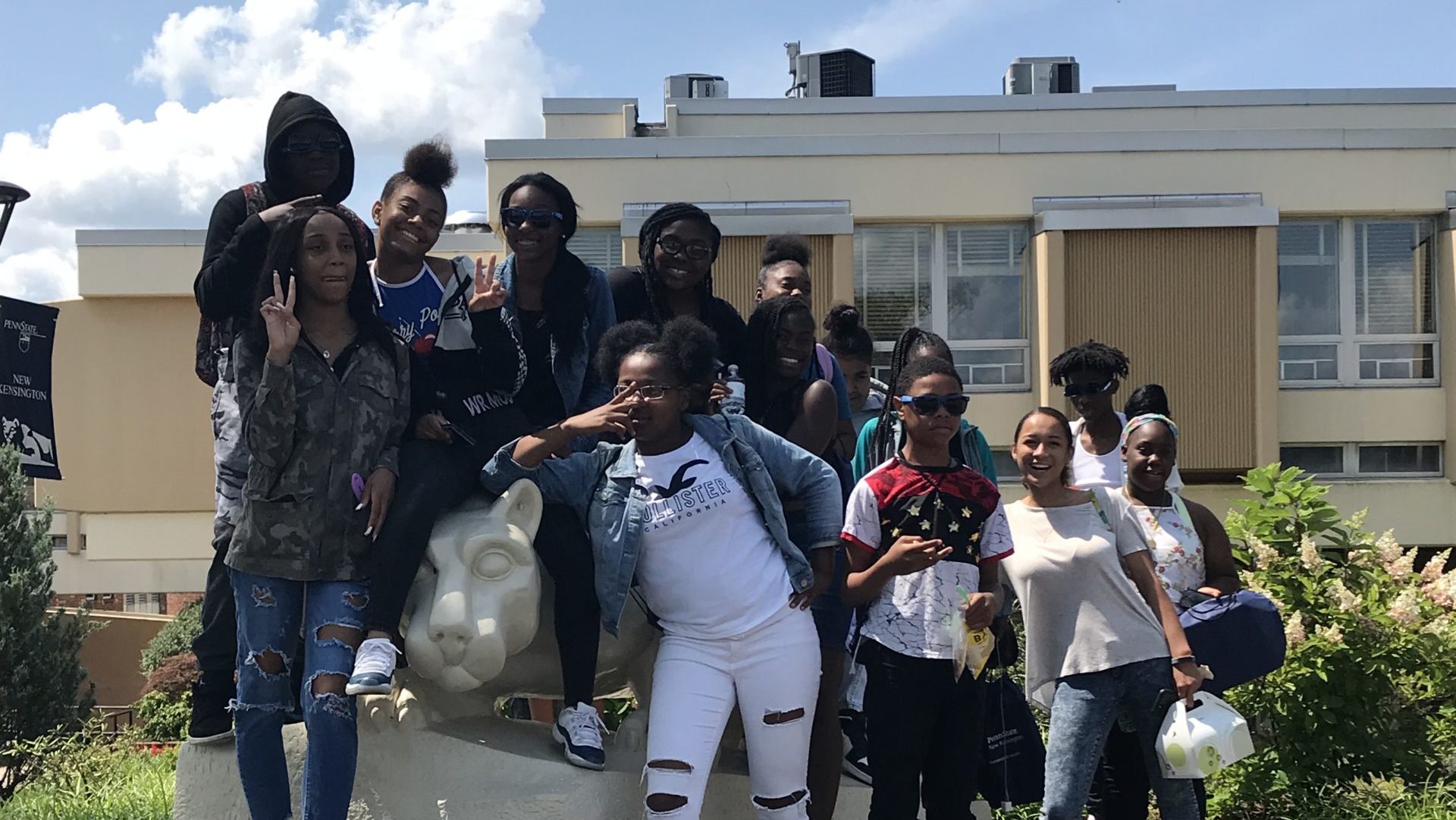 During the school year, a group of Pittsburgh high school students met twice a week at the Penn State Center Pittsburgh to explore their future and improve their community. The students were a part of the Community Innovation Training for Youth (CITY) program, which aims to provide local students with a unique out-of-classroom learning experience and help guide them in developing skills needed for the future.
During the program session, students have had the opportunity to conduct STEAM experiments, visit local colleges and trade schools, and attend important cultural events. This year, students from several different schools set up and maintained an aquaponics system, made edible water bottles, built hoop gliders, visited Penn State campuses, applied for scholarships, attended a Martin Luther King Jr. lecture, participated in a youth led mental health advocacy workshop, and taken part in other engaging activities. Check out our Facebook and Instagram accounts to get an update on what else the CITY students have been up to.
However, due to recent restrictions during the COVID-19 pandemic, the CITY team has had to adjust the way they connect with students in the program.
"We have a great group of engaged high schoolers this year who are eager to learn new things about the community and world around them," said Emma Hance, CITY program manager. "Making the switch to a virtual program was challenging, but these students have continued to stay involved and interested in the program in other ways." 
During this time of social distancing, Hance and CITY program assistant Lloyd Cleveland set up weekly Zoom calls with the students and have compiled a list of at-home resources shared in a weekly email newsletter. The Zoom calls give students an opportunity to stay connected with each other and share updates on their summer, their plans for fall, and how they're mentally handling these unprecedented times. Hance and Cleveland have still been able to provide ongoing mentoring and guidance on students' education and career plans. 
Additionally, to engage student learning, the team put together a resource webpage and newsletter with activities to access at home. CITY students, other high school students, and even adults can benefit from the resource list, which includes activities in science, technology and gaming, mental and physical health, arts and language, and media.
"Though we can't meet in person and do fun experiments together, this newsletter and webpage give students some ideas for activities to try on their own while practicing remote learning," said Hance.
CITY is also hosting a virtual alternative for its summer Learn & Earn program with Partner4Work. The group will be paired with Bloomfield Garfield Corporation to provide a meaningful work experience and career exposure to low-income young adults. Learn more about and apply for the Learn & Earn program.
We invite high school students, educators, and parents interested in joining CITY, as well as community professionals interested in volunteering to learn more about the program