To help you stay engaged and entertained during this unprecedented time of social distancing, the Community Innovation Training for Youth (CITY) team has assembled activities and resources you can access at home. Keep checking back, as we will continue to add to this list.
Remember to post photos of yourself participating in activities and share other activity ideas by tweeting @PennStatePgh with the hashtag #CITYpghAtHome. You can also contact CITY Program Manager Emma Hance with your questions or ideas.
Take advantage of these opportunities and make the most of your time:
General Activities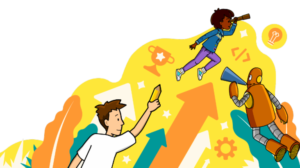 BrainPOP offers interactive lessons in science, social studies, English, math, health, technology, and other subjects. Lessons include a short video, quiz, activities, related reading, worksheets, vocabulary list, games, and more. Here are some of the lessons we've explored recently:
WORLD Channel broadcasts at-home learning programs for students grade 6–12 from noon to 5:00 p.m., Monday through Friday. 
WPSU Learning At Home includes weekly PBS program schedules, color coded by subject: STEM, social studies, literacy, and arts/culture.
Academy 4 Social Change is a video series on various psychology, rhetoric, logic, reasoning, and economic topics. Each video comes with an explanation of the topic as well as a lesson plan and worksheet that you can use to deepen your understanding of the topics.
Move This World's social emotional learning courses teach students and educators a common language and effective exercises that aid in identifying and managing emotions, problem solving, and building relationships. It encompasses everything from goal setting to stress management, and it provides both children and adults with tools they can use to express themselves authentically and appropriately.
TEDEd — TED's youth and education initiative — aims to spark and celebrate the ideas and knowledge-sharing of teachers and students around the world. Through TEDEd's online platform, you can explore a variety of different topics, from the science of laziness to how students of color confront impostor syndrome, and even why certain songs get stuck in your head.
Teaching Tolerance is a free resource for educators (and future educators) that can be used to help create "inclusive school communities where children are respected, valued, and welcome participants." Explore issues of race and ethnicity, religion, ability, and class, and learn how to respond to coronavirus racism.
Project Implicit provides the opportunity to learn about your implicit associations about topics such as age, race, weight, therapy, ability, and others. Understanding bias and taking steps to combat it can help to improve our relationships with others and with the world around us.
Socratic by Google is a learning app powered by Google AI that can help you understand school work at a high school and university level. Ask Socratic a question and the app will find the best online resources to learn the concepts.
Wonderopolis is an informational site that asks and answers interesting questions about the world around us. Every day, a new "Wonder of the Day" topic is posted for you to explore and discuss with your family and friends.
12 Things you Might Not Know about Juneteenth provides resources to explore the history of Juneteenth on June 19 — the oldest nationally celebrated commemoration of the ending of slavery in the United States.
Freerice is the fun and educational trivia game where you can make a difference and get smarter, just by playing! With dozens of categories — from English vocabulary to famous paintings — you can quiz yourself on your favorite subject while generating money to support the World Food Programme at the same time. For every answer you get right, Freerice donates 10 grains of rice to the WFP, which can add up quickly! Play via the website, or through the app (available for iOS and Android).
edX can help high school students fight the summer brain drain by taking an online course! Take classes from universities including Harvard, MIT, Kyoto University, and Imperial College London on topics ranging from The Chemistry of Life to Finance for Everyone. You can even pursue college credit with classes on pre-calculus and college algebra! All of the courses are free to audit.
Science Activities
Zooniverse lets everyone to take part in real, cutting-edge research in many fields across the sciences, humanities, and more. Participate in research of all kinds, from classifying galaxies to counting penguins to transcribing manuscripts. Zooniverse is a citizen science web portal that is home of some of the internet's largest, most popular, and most successful citizen science projects.
The Citizen Science Lab is now offering Biotechnology Tools and Techniques training via LabXchange, a free online platform for virtual simulations, videos, and animations created by scientists. Learn and practice foundational biotechnology techniques online, like isolating DNA/protein, culturing bacteria, or conducting various chemical reactions.
Biology Simulations helps students learn about biology and practice data analysis skills. These simulations can be run quickly and each has random components, allowing students to easily gather data from multiple trials. Some simulations are guided virtual labs while others can be used for a science-inquiry approach by allowing the user to make decisions and control multiple variables.
JoVE includes in-depth videos and explanations to a wide range of experiments. Learn about research methods, clinical skills, or do a deep dive into topics like social psychology, environmental science, and even neuroscience!
Explore Teaching Tolerance to celebrate Pride Month in June by learning more about the Stonewall riots. Learn more about the history and significance of the event that marks the beginning of  activism as we know it.
Technology/Gaming Activities
BlocksmithXR offers self-paced curriculum to help you learn game design and coding using free software for Windows, Macintosh, and Chromebook computers. BlocksmithXR allows students of all skill levels to easily create 3D art assets and develop virtual reality experiences. Install the free software and explore some of the projects and games that other students have created.
Review Game Zone is an educational website that rewards your learning with free games. Select a subject to study, and you'll then be asked to answer questions. The more correct answers you give, the longer you get to play!
CodeCombat teaches you how to code in either Python or JavaScript, both of which are widely used in the computer science field. Learn how to code by playing an online game.
Access Mars lets you explore a 3D replica of the Martian surface, exactly as it was recorded by the Curiosity rover. As Curiosity has traveled across Mars, it has taken a series of digital photographs, which scientists have combined to create a 3D model to study the planet and plan future experiments.
Mental and Physical Health Activities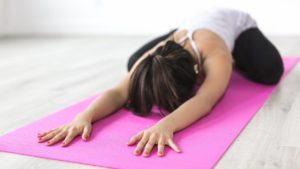 YMCA of Greater Pittsburgh offers Y At Home, which includes online workouts, nutrition information, mindfulness exercises, and healthy recipes that you can make at home.
Headspace allows you to select goals and areas of focus and then tailors a meditation and stress-reduction program just for you. Headspace is available online and as an app for Apple and Android mobile devices and is offering a free trial to encourage people to focus on mindfulness.
Wide Open School's "Get Moving" page lets you unlock a variety of different physical activities, including Ryan Heffington's ULTRA popular Instagram live dance party, equipment-free boxing workouts from Fight Camp, and 30-minute "home work-ins" with celebs and personal trainers.
CounSEL takes a behavioral, skills-based approach to help teens manage their emotions, deal with distress, and communicate effectively. Lessons focus on 4 key competencies: mindfulness, regulating emotions, social and communication skills, and crisis management.
A Self-Care Action Plan, offered by the How to Adult YouTube channel, explains why self care is essential and something that you should make some time for each day! While you're at it, check out some of the other videos.
Yoga with Faith Hunter can be a great way to improve both your physical and mental health. As yogi Faith Hunter says, yoga and meditation can help you to get "spiritually fly." 
Chop Chop Family offers an abundance of free and fun recipes, because we're all spending more time at home, which means more meals to prepare. Check out fresh cooking recipes for some great summer dishes.
Smiling Mind is a unique web and app-based program developed by psychologists and educators to help bring balance to people's lives. Just as we eat well and stay fit to keep our body healthy, mindfulness meditation is about mental health and looking after the mind.
Nike Training Club app helps you reach your fitness goals with expertly designed workouts from  world-class Nike Master Trainers.
Better Homes & Gardens offers tips for starting your own garden, which can help lower stress, ease depression, and improve your overall mental health. While many experienced gardeners start planting earlier in the season, if you plant your vegetables soon, you'll still have enough time this summer to grow a good amount of fresh veggies!
Arts and Language Activities
Artrageous with Nate travels the globe, showcasing creative geniuses from our past and today. Watch short episodes on topics like Basquiat, the theft of the Mona Lisa, and art forgery forensics or participate in one of their STEAM design challenges to help spark your creativity!
American Panorama is a historical atlas of the United States that combines cutting-edge research with interactive mapping techniques. Learn about the origins of people from different racial, ethnic, and cultural backgrounds and explore how those people voted and other historical information. 
Mango Languages is an award-winning language-learning resource centered around you, with programming that adapts to your individual learning behavior. You can select from more than 70 self-paced courses on world languages and dialects.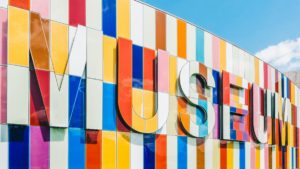 Virtual museum tours are a great way to "get out and explore" without leaving your home. Good Housekeeping has assembled a large list of virtual tours of museums including the Louvre; NASA's Langley Research Center and Glenn Research Center; and the High Museum of Art in Atlanta (whose current Civil Rights Photography exhibit focuses on moments of social protest).
Carnegie Library of Pittsburgh has a number of free online resources. You can borrow eBooks that can be read on an eReader, tablet, computer, or phone. You can also stream free movies, TV shows, audiobooks, and music albums.
Much Ado About Nothing: For the first time in over four decades, Great Performances presents a Public Theater production recorded live at Free Shakespeare in the Park. "Much Ado About Nothing" is a bold interpretation of Shakespeare's comedic masterpiece.
Poetry in America is a public television series and multi-platform educational initiative that brings poetry into classrooms and living rooms around the world. Watch as host Elisa sits down with hip hop legend Nas to do a close-reading at "It Ain't Hard to Tell," or join poet Edward Hirsch and NBA players Shaquille O'Neal, Pau Gasol, and Shane Battier as they use basketball to understand poetry — and poetry to better understand the game of basketball.
Cirque du Soleil is the largest contemporary circus producer in the world, and they are known around the world for their striking, dramatic, beautiful, and engaging productions. Through the CirqueConnect Content Hub, you can watch a variety of their 60-minute specials as well as some behind the scenes footage!
Spotify's COVID-19 Guide can help you stay up to date on the latest news and trends through popular and trustworthy podcasts. Check out "Make Me Smart," "Six Feet Apart with Alex Wagner," and "LeVar Burton Reads."
7000 Languages aims to help Indigenous communities around the world teach, learn, and revive their endangered language. You can learn about 19 different languages, from First Nations languages like Ojibwe and Dakota, to Nahuatl, the language of the Aztec empire!
It's No Laughing Matter is an interactive learning activity centered around political cartoons that is offered by the Library of Congress. Learn about persuasive techniques used in political cartoons and maybe even become inspired to create cartoons of your own.
Vulnerable Pennsylvanians in the Context of a Pandemic is a study presented by the Penn State Center for Economic and Community Development. It prompts us to think about how, why, and where populations are experiencing challenges as a result of COVID-19. 
I Am Not Your Negro is a film from Raoul Peck envisioning the book author James Baldwin never finished — a revolutionary, personal account of the lives and assassinations of three of his close friends: Medgar Evers, Malcolm X, and Martin Luther King, Jr.
Just Mercy is a powerful true story about the Equal Justice Initiative, the people they represent, and the importance of confronting injustice. The film tells the thought-provoking story of young lawyer Bryan Stevenson.
Media Activities
Bites Media provides a trustworthy foundation to take on life and life's issues. You can explore topics like "Can Technology have Bias?" and "What is a Pandemic?" through well-sourced, straightforward, digestible information snapshots and thought exercises.
8×8 video conferencing lets you set up free group video calls with your friends and family so you can keep in touch and maintain a sense of connection. While you may not be able to be physically close to the people that you care about, it's important to maintain those relationships.
Dear Class of 2020 is a virtual commencement celebration that will bring together inspirational leaders, celebrities, and YouTube creators to celebrate graduates, their families, and their communities.
The 1619 Project is an ongoing initiative from The New York Times Magazine that began on the 400th anniversary of the beginning of American slavery. It aims to reframe the country's history by placing the consequences of slavery and the contributions of black Americans at the very center of the story that we tell ourselves about who we are as a country.
Anguish and Action  presents a number of resources that demonstrate what you can do to create a more just and equitable world, ijncluding a video featuring President Obama and national leaders in the police reform movement discussing the tragic events of recent weeks, the history of police violence in America, and specific action steps needed to transform a system that has led to the loss of too many lives.
99% Invisible (one of the most popular podcasts on iTunes) is about the thought that goes into the things we don't think about — the unnoticed architecture and design that shape our world. Want to learn how a joke about "Pittsburghese" led to a deep dive into the distinct architecture of Pizza Huts? Check out the episode "U.T.B.A.P.H – Used To Be A Pizza Hut."
Teen Ink is a national teen magazine, book series, and website written entirely by teens. For ore than 25 years, Teen Ink has offered teens the opportunity to publish their creative work and opinions on issues that affect their lives — everything from love and family to school, current events, and self-esteem.