You've heard all about their time with the City Semester Pittsburgh program, now catch up with some of our alums and find out what they've been up to since they completed the program and how City Semester has impacted their future so far.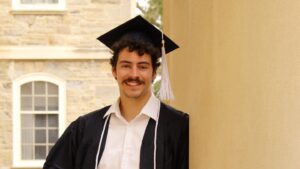 Name: Luke Babik
Year Graduated: 2022
Degree: B.A. in International Politics
City Semester Date: Summer 2021
Internship Partner: Pennsylvania Environmental Council (PEC)
Where You Are Now
Luke is currently a federal affairs intern at the Trust for Public Land. 
What kind of work do you do?
I support local park initiatives and other public space programs by working at the federal level to track grants and secure funding.
What does your day-to-day look like?
I am primarily remote, so I work from my home here in Pittsburgh most days. A normal day consists of lots of reading, writing, and listening — combing through agency fact sheets and reports, listening in on seminars/info sessions on various government programs, and drafting blogs and other communications regarding these interests.
What is your biggest professional accomplishment so far?
I am brand new to this position, so I would say the work I am most proud of is still during my time with PEC. I did a lot of planning, preparation, and promotion for an event done through the Laurel Highlands Conservation Landscape. Being a part of process and seeing it go so smoothly was really rewarding at such an early stage of my career.
Your Time with City Semester
What was the biggest thing you learned during your time with City Semester?
Obviously, I learned a great deal about a number of very poignant sustainability topics, but I think what has been really important for me is seeing how many different ways people can make a difference. There are literally thousands of organizations tackling innumerable sustainability issues around the world. There is room for everyone to take part in the cleaner and more just future we imagine, and my journey/impact does not have to look like anyone else's.
Which topic during the urban sustainability class did you enjoy learning about most?
There were very few topics that I did not thoroughly enjoy hearing about, and I do not think I could narrow it down to one. I thought that the lessons on urban design and how it relates to housing and transportation were really eye-opening, but the lesson on solar and energy policy at-large was also right up my alley.
How did your internship prepare you for where you are now?
My internship with PEC was a perfect leaping-point for the position I am in now. Beyond gaining general experience working with an environmental nonprofit, I also became familiar with conservation finance and navigating grant programs. As I take a step from a hyper-local focus with PEC to a national one at TPL, my role has changed in scale, not in kind. I have also been able to leverage many of the connections made during my previous internship.
What advice would you give to a new student just starting with the program?
Get to know your classmates! It never crossed my mind during the program that this group of people could be a huge asset as I move forward in my career and life generally. They are intelligent, like-minded individuals that likely want to accomplish some of the same things you do. Your paths WILL cross again, and it may be sooner than you think.
Living the Sustainable Life
When did sustainability first become important to you?
It has been in the periphery as long as I can remember but became central to my life when I was about 16. The wastefulness around me and utter neglect for the natural world became glaring to me around this time.
What's your favorite sustainability hack/tip?
It is not for everyone, but — cold showers. Not only do you save energy, but you tend to use far less water. I find it to be incredibly good for my hair, skin, and most importantly mental health as well, which is a bonus.
Fast Facts
Last book you read?
The Genius of Birds by Jennifer Ackerman
Favorite Penn State memory?
Winter retreat in the snow to Shaver's Creek Environmental Center
If you were a plant/flower, what would you be?
Shagbark Hickory tree
Best Instagram account to follow?
NatGeo Travel
Best Creamery ice cream flavor?
WPSU Coffee Break
Check out the rest of our Catching up with City Semester Alums series!