This year has already been an eventful and exciting time at the Penn State Center Pittsburgh as the team continues to collaborate with students, faculty, and partners to make a positive impact on the city. Let's take a closer look at some of the projects and programs that the team has been working on this year, and how they are supporting sustainable and equitable communities.
Pittsburgh Studio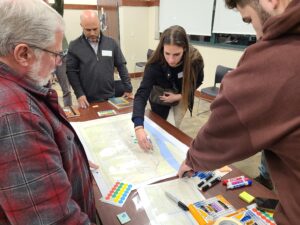 How'd you like to see a giant paddlefish sculpture in the center of a park? Or a mini soccer pitch on the top of a building? How about a grand lawn and tiered seating on the riverfront? That's what a few Penn State landscape architecture student proposed for several sites in Coraopolis as part of the Pittsburgh Studio. For the 13th semester since 2008, the Penn State Center Pittsburgh team joined distinguished professor Ken Tamminga to help connect and guide his Pittsburgh Studio class as they completed projects within a local neighborhood. This past spring, students worked in the Borough of Coraopolis on three sites: Mill Street and Pine Way, Riverfront Park and precinct, and several parkettes and vacant lots. Throughout the semester, they talked with community stakeholders and local business leaders about the area and its needs and challenges. Students then presented their design concepts during an open house in April with community members at the Youth Creations Hub in Coraopolis. The Penn State Center works with Tamminga at the start of each studio to identify neighborhoods and connect students with key stakeholders throughout the process. Read more about Pittsburgh Studio on Penn State News.
Nittany AI Alliance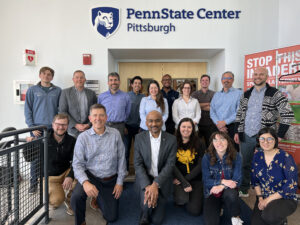 The age of artificial intelligence (AI) is here, and many Pittsburgh nonprofits are starting to understand how AI can be used for good. The Center recently hosted the Nittany AI Alliance for a workshop on "Empowering NGOs to Deliver Impact with Data-Driven Decisions." The team selected several Pittsburgh nonprofits that could benefit from the workshop. Representatives from the local organizations took part in the workshop on April 11, which was led by Ganes Kesari from Innovation Titan and included discussions on the basics of AI, exercises to build an AI roadmap, and access to educational materials. Nittany AI Alliance will continue to follow up with the group and work with them individually to help them organize data and implement AI programs to better achieve their missions. Read more about the initiative on Penn State News. 
City Semester Pittsburgh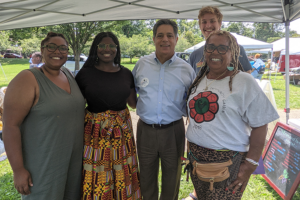 While some Penn State students are headed home for the summer, several will be making their way to Pittsburgh for the City Semester program hosted at the Center. Earlier this spring, more than 20 students applied for the program, currently in its 9th semester, looking for a personalized and immersive experience in urban sustainability. Our team selected several students to participate and matched each to an internship with one of our community partners, including the Pittsburgh Department of City Planning, Covestro, Pittsburgh Food Policy Council, and many others. In addition to their internship experience, students will also take the EARTH 412 Urban Sustainability course as a cohort at the Center. Throughout the program, students will have an opportunity to connect with local sustainability leaders through guest lectures and site visits to green buildings and organizations. We can't wait to connect with the students this summer and will share more on our social media channels and News page.
National Green Infrastructure Certification Program (NGICP)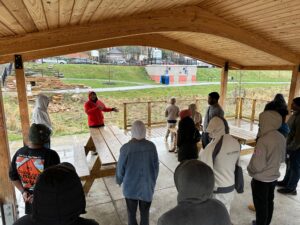 Over the past several years, our team has worked with the nonprofit organization Landforce to invest in people and land through workforce training and development, specifically in the green infrastructure field. David Himes, sustainable communities manager at the Center, is one of the region's only official instructors for the National Green Infrastructure Certification Program (NGICP) and offers the program to Green Stormwater Infrastructure (GSI) professionals twice a year, as well as a customized course with Landforce. In April, Himes hosted an Intro to GSI course to more than 20 Landforce crew members, discussing the basics of green stormwater management, trends in installation and maintenance, and the ecological and economic benefits. In May, he will provide the full NGICP course to crew members, in hopes that they will use the knowledge and skills they learn in the course to build their future and help improve Pittsburgh's infrastructure.
Remix Row House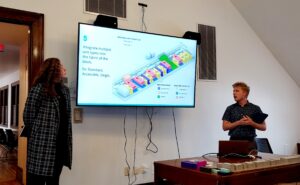 In April, our team had the opportunity to join Penn State architecture students from Professor Heather Ligler's studio class for their "Remix Row House" presentations in Pittsburgh. Throughout the semester, students explored alternative considerations for the redevelopment of several vacant row houses in Homewood and the City of Pittsburgh. They then presented their design concepts to community leaders at the Carnegie Library of Pittsburgh – Homewood.
Penn State Outreach Activities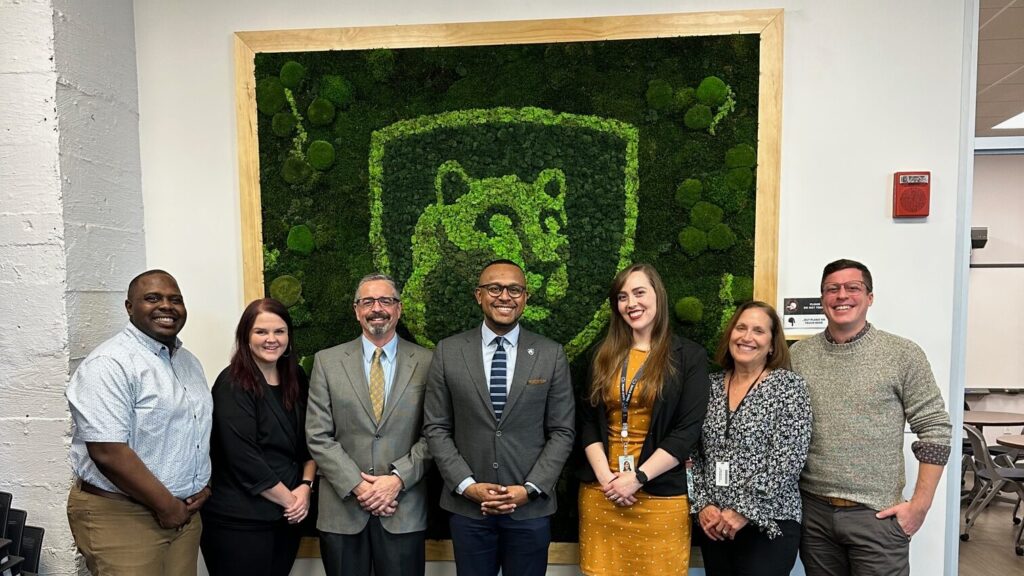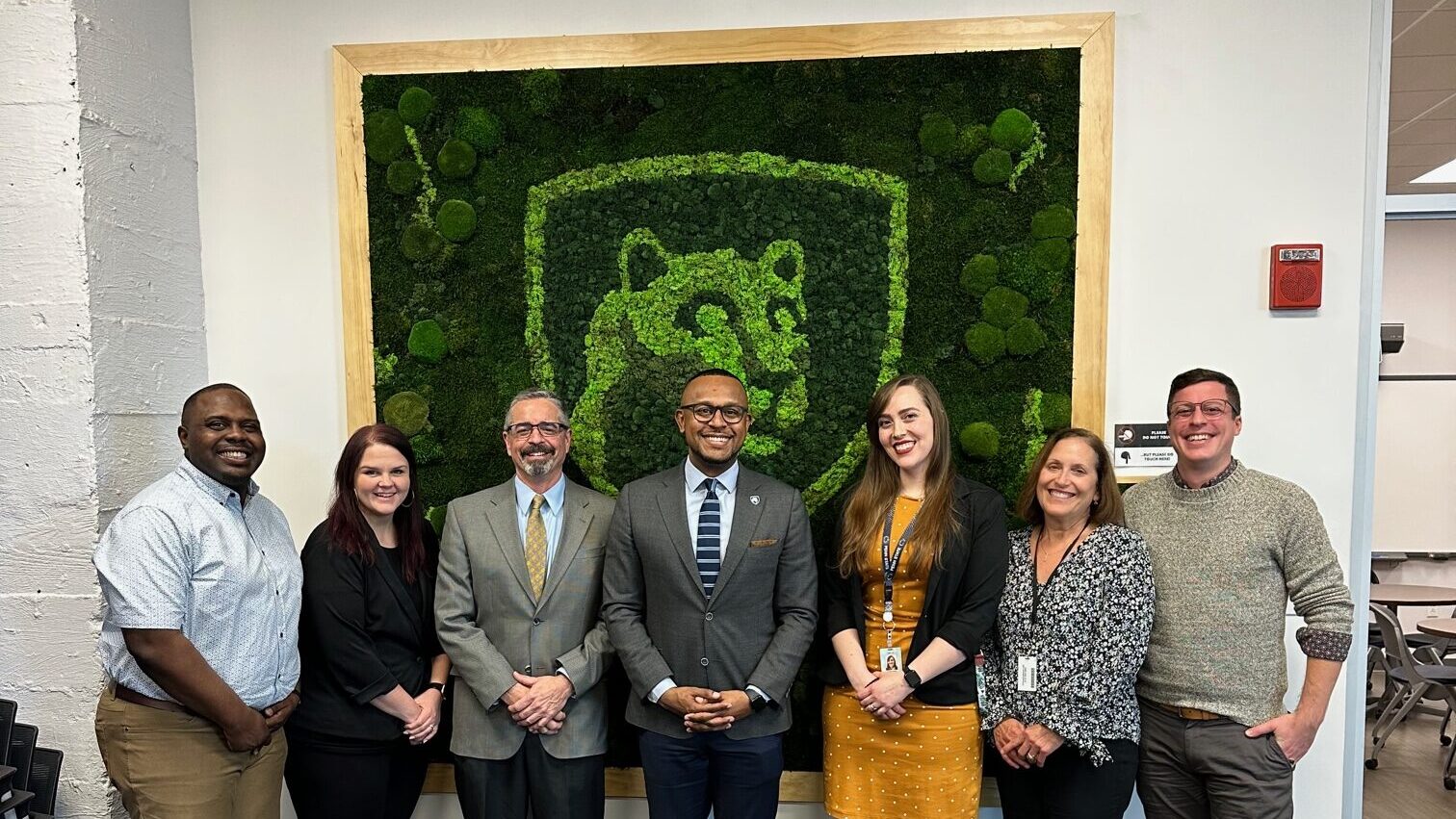 In November 2022, it was announced that Larry D. Terry II was named the new vice president for Penn State Outreach, and he officially started in his role earlier this year. Terry recently made the trip to the Penn State Center Pittsburgh to visit with our team and the Readiness Institute at Penn State team and talk about the community and programs in Pittsburgh. We had a great visit and are excited for the positive impact he has already had on Penn State Outreach.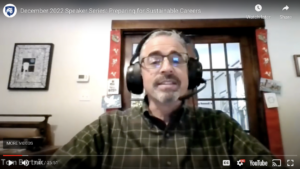 Earlier this year, Tom Bartnik, director of Penn State Center Pittsburgh, was featured on the Readiness Institute's Speaker Series. During his episode, titled "Preparing for Sustainable Careers," Bartnik discussed his own personal and professional pathways as well as trends and careers in sustainability. The monthly webinars aim to connect industry leaders with high school educators to help them prepare students to become community and future ready. Check out the episode from the Readiness Institute.
We've already had a lot of exciting activities in 2023, but the year has just begun! There is a lot more in store, so stay tuned. As always, be sure to follow us on social media and sign up for our newsletter to stay connected to the latest news and views from the Penn State Center Pittsburgh team.