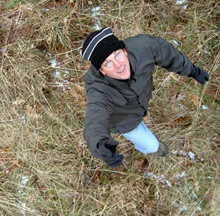 Ken Tamminga, Penn State professor of landscape architecture in the College of Arts and Architecture, was named the northeast regional winner of the 2011 Outreach Scholarship W.K. Kellogg Foundation Engagement Award by the Association of Public and Land-Grant Universities (APLU) and the National Outreach Scholarship Conference. 
Tamminga's Pittsburgh Studio, in partnership with the center and community partners, works in various Pittsburgh neighborhoods. Under his leadership, the students in the Pittsburgh Studio help to serve the communities with ideas and regenerative designs, aiming to meet the vision of community leaders, residents, and other stakeholders to improve the landscape of each neighborhood.
As the regional winner, Tamminga and the Pittsburgh Studio will advance to the national competition and compete for the C. Peter Magrath University Community Engagement Award this fall. The Magrath Award looks to identify colleges and universities that have redesigned their learning, discovery, and engagement functions to become even more involved with their communities. The winner will be announced in November at the APLU meeting in San Francisco.
Congratulations to Professor Tamminga!