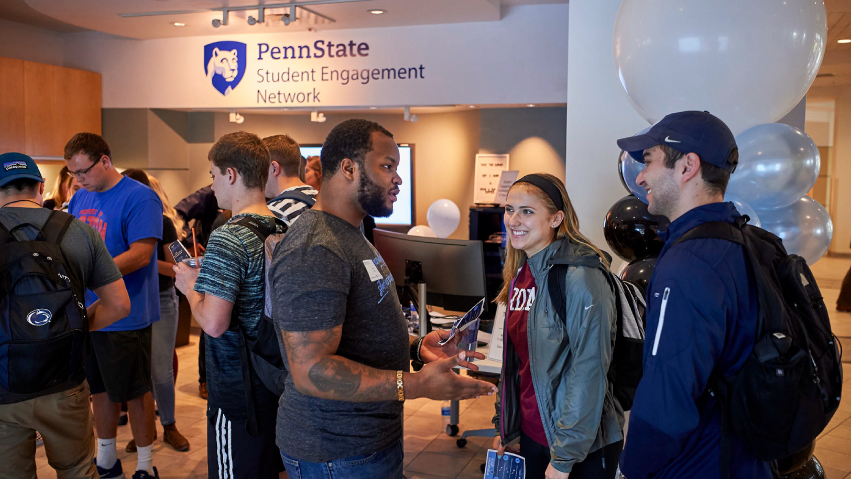 UNIVERSITY PARK, Pa. — Erifili "Lily" Draklellis, a third-year student majoring in Earth and science policy, and Anthony Mitchell, a fourth-year student majoring in political science, have been awarded PepsiCo Urban Sustainability Fellowships.
Mitchell and Draklellis are enrolled in Penn State's new Study Away Pittsburgh program, a semester-long, transformative, urban, educational experience for third- and fourth-year Penn State students.
Modeled after study abroad programs, students are placed with community partners and participate in an in-depth, community-based learning experience in sustainability while residing in Pittsburgh for a semester. Study Away Pittsburgh connects community partners with students who come from various majors and minors including: landscape architecture; geography; marketing; communication; recreation, parks and tourism management; community environment development; and sustainability leadership.
"This program is extraordinary, being that it is both flexible in how people can engage with it for their fields of study as well as the full immersion into another environment without going far to do so," Mitchell said.
"The program is designed to allow students to learn about urban sustainability challenges and solutions while working on projects that directly improve Pittsburgh's communities," said Michele Halsell, who was part of the team that designed the Study Away Pittsburgh program.
Mitchell has an internship with the Urban Redevelopment Authority of Pittsburgh, where he is working on land-use issues including a property stabilization program as well as efforts to address vacant lots within the city. Draklellis' internship is with the Pennsylvania Environmental Council where she is working on an economic development project that links parks, natural resources and tourism amenities.
"I applied to the program because urbanization is real and happening; more than half of the world's population lives in urban centers, and this number is on the rise," Draklellis said. "It is very important to make sure cities are meeting sustainable goals, and new cities which are forming are doing so in a sustainable, healthy way for our environment."
An urban sustainability course taught by Lisa Vavro, program manager for the Penn State Center Pittsburgh, compliments the students' internship experience. Vavro and the center work with a wealth of community partners to create a real-world learning experience for Study Away participants.
"Within the curriculum, students have opportunities to learn from environmental stewards who are currently working to achieve or maintain sustainability within their city," Vavro said. "Whether it's the chief resilience officer for the City of Pittsburgh, a volunteer working to protect their neighborhood from flood waters, or a CEO maintaining best practices within their business, the students are immersed in urban sustainability and revitalization."
The PepsiCo Urban Sustainability Fellowship is an innovative grant program that enables corporate and private business support of engaged scholarship to fulfill sustainability-related projects and priorities of local non-profit organizations in Pittsburgh.
"Many private businesses and corporations have corporate social responsibility initiatives that focus on addressing issues in the communities where they have offices and production or distribution facilities," Halsell said. "Likewise, many of our non-profit partners don't have funds to hire an intern, but the PepsiCo Urban Sustainability Fellowships fill that gap by providing fellowships to students who work with local non-profits and create a virtuous triangle that is a win for students, non-profits and industry."
The Sustainability Institute and Penn State Center Pittsburgh invite undergraduate students in good standing to apply for the Study Away Pittsburgh program for spring 2018. Ten PepsiCo Urban Sustainability Fellowships (a $2,500 stipend for one semester of study) will be awarded to qualified students with their enrollment in the program. Applications are currently being accepted online with a deadline of Sept. 20.
Students are encouraged to attend information sessions in the HUB lounge from 12:30 to 1:30 p.m. on Sept. 12, 14 or 19, to find out more about the program. Questions should be directed to Michele Halsell at mwh16@psu.edu.