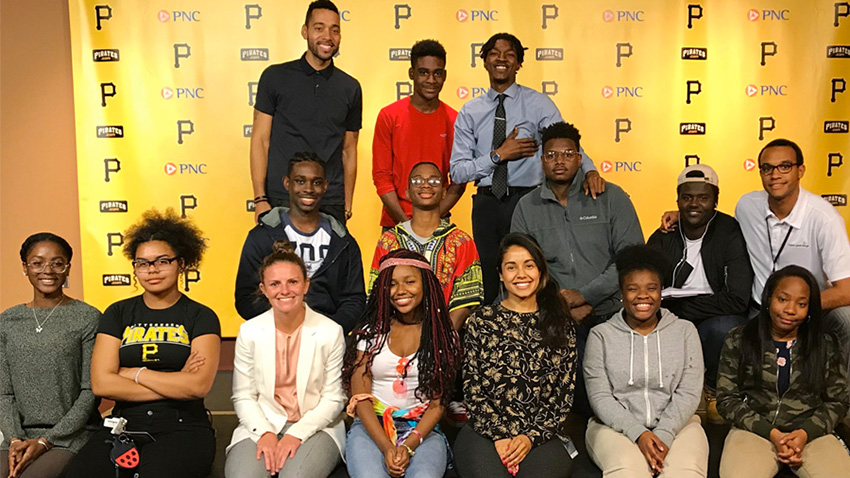 PITTSBURGH — JoMar Davis is a student at Hill House Passport Academy Charter School in Pittsburgh.
"I would like to run for mayor, congress maybe even president one day," Davis said. "There are many people in politics that don't look like me. My mom always told me not to wait for someone else to be the first person to do it. Do not ever think that where you are from has to hold you back. I want to inspire others to do it, to believe they can make a difference."
Davis has been a part of the Penn State Community Innovation Training for Youth (CITY) program from its inception two years ago. Through CITY, Davis was able to get a head start on his career ambitions by securing an internship with Marita Garrett, the mayor of Wilkinsburg — a borough of Allegheny County — near Pittsburgh. He said he plans to major in political science at a local university and hopes to use his experience to inspire others.
Etienne Gaston is a student at Northside Urban Pathways Charter School. Gaston said he hopes to attend Penn State to major in athletic training, with aspirations to become a team doctor.
"The CITY program has been a positive part of my life and something I look forward to each week," Gaston said. "Program leaders and mentors have helped me to prepare and apply to Penn State. Without their help, I don't know if I would make it."
The mission of the CITY program at the Penn State Center Pittsburgh is to encourage pathways to success for high school students in the Pittsburgh area by providing opportunities outside of the classroom. The CITY program connects participants with personal and professional mentors as a way to introduce career possibilities in science, technology, engineering and the arts; encourage community involvement; and develop teamwork skills.
Naomi Ritter, CITY program manager, oversees CITY students, curriculum and outreach to community and university stakeholders. Ritter said she has seen first-hand how students work collaboratively to reach solutions and support each other.
"This fall, our students made it a point to 'show up and show out,' making a commitment to each other and themselves to strive for excellence in everything they do," Ritter said. "Through social activities, students examined roles they play within our society as it relates to being supportive of each other's goals. Throughout the semester, we noticed them using more inclusive language with their peers and demonstrating responsibility to collectively inspire one another towards success."
Ritter works closely with Teireik Williams, CITY program assistant, to pair each student with two mentors from the Pittsburgh area. The mentors provide support and direction about career paths, future goals, leadership opportunities and problem solving.
Andre Samuel is director of The Citizen Science Lab at the Energy Innovation Center and a mentor for the CITY Program.
"I think the first and most important attribute of the program is that it provides a safe place for students to be themselves and experience multiple career possibilities," Samuel said. "Next, I would say access to phenomenal leaders such as Naomi, Teireik and other program mentors. Mentoring is a very important component to the success of our communities and I encourage those who want to take the time to volunteer and make a positive impact in the community to mentor whenever possible."
To learn more about the Penn State CITY program or to become a mentor, contact the Penn State Center Pittsburgh.