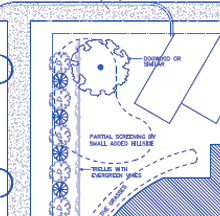 In the summer of 2011, The Penn State Center employed five interns focusing on various aspects of the Center's work. Two of the interns who became very engaged with community stakeholders were Lacie Schreiner, a landscape architecture major, and John Friend, a landscape contracting major.
During Lacie's internship, one of her projects closely involved her in community dynamics concerning a design problem in the Friendship-Bloomfield neighborhoods of Pittsburgh. She began by interfacing with the community stakeholders and then developed two different design scenarios. She presented her ideas to the community stakeholders, refined the selected scheme according to the community's ideas, and presented the final design to both community and nonprofit owners.
Lacie commented, "Working on the EVO project was a unique experience that exposed me to an interdisciplinary style of work that we rarely accomplish in school. It was very rewarding to see the site plan come alive in the client's eyes as we walked along the chosen site."
John's internship consisted of assisting the Beltzhoover Community Group with the design and installation of garden nursery areas in their neighborhood while providing them with technical education information. He also created a sustainable planting design for the Etna Volunteer Fire Department that was planted by the garden club. In addition, John assisted in community entrepreneurial opportunities within the realm of landscape contracting.
During John's internship, the Center participated in a unique opportunity presented to two community entrepreneurs — Bey Brothers Landscaping in Beltzhoover and Rosedale Block Cluster, Inc., in Homewood. This project involved the deconstruction of the Civic Arena landscape — sensitive removal of mature plant material so it could be replanted in either Beltzhoover or Homewood or sold in new urban nurseries located in those neighborhoods.
John was engaged at every level of the project leading up to the site work, which included the proper methods for extracting the mature plant material and with the proper nursery site planting to maximize winter survival. He worked with Bey Brothers Landscaping on a number of business and landscaping activities, including estimating, marketing, training, and curriculum development; landscape/nursery lay-out concepts; and, with Rosedale in Homewood, on future nursery layout designs and establishing training materials for mentoring purposes.
John wrote, "I have never done such a large-scale transplantation/transportation of plants, but with a solid six-man crew working on this job, it took approximately sixty hours. The root balls were wrapped in burlap after they were taken out of the ground; therefore, losing soil while transporting them was not a problem."
There is no doubt that both Lacie's and John's internship experiences at The Penn State Center were educational beyond their expectations — worthwhile to the students, the Center, and the communities with which they interfaced in Pittsburgh.