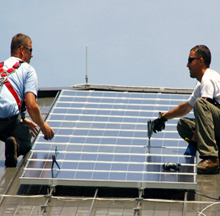 Penn State was recently awarded $2 million for the creation of a regional Mid-Atlantic Solar Resource and Training Center serving New Jersey, Pennsylvania, West Virginia, and Delaware. Solar train-the-trainer facilities will be located at the Pittsburgh Green Innovators building and at the Philadelphia Naval Shipyard.
The solar train-the-trainer initiative will provide online, classroom, and hands-on learning for instructors at community colleges, vocational technology schools, and local union training centers, to prepare them to train the solar technicians needed in a new energy economy.
The Penn State Center — Pittsburgh, The Penn State Center for Sustainability, and the College of Engineering worked together to secure this grant from the Department of Energy.