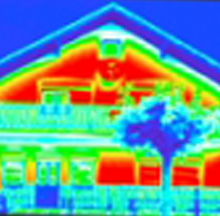 The Penn State Center is a lead organization bringing new perspectives to the issue of home energy evaluations and weatherization retrofits through the Department of Energy's National Renewable Energy Laboratory–funded project. By partnering with organizations that have common objectives but that serve different clients, the project will reach a cross section of urban as well as rural families. One of the important approaches of the project is to bring the family into the equation when developing action plans to reduce energy use, resulting in lower costs. Another outcome of the project will be improved understanding of the training needs of the audit and weatherization industry, as well as a workforce development component designed to provide training in the energy audit field.
This unique partnership between the University of Pittsburgh and Penn State allows students to be engaged in the project. This gives them real-world experience and provides the homeowners with quality outcomes. Penn State architectural engineering is developing a curriculum model to be inserted into a University of Pittsburgh course. Melissa Bilec, Ph.D., assistant professor and director for education and outreach at the Mascaro Center for Sustainable Innovation, is excited about the experience that her students will gain, and the project's ability to provide homeowners with tangible and valuable benefits.
The collaboration developed through the project will capitalize on the strengths of each organization. A cross section of housing stock in both urban and rural settings will be part of the project, which aims to increase the value of energy audits to the homeowner by taking into account the family dynamic — and tailoring proposed action plans to realistic lifestyle changes and affordable retrofits.