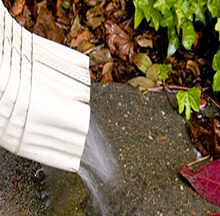 "The technical resources being provided by Penn State to our community are invaluable to our efforts. We are a small community with limited resources and limited staff. These resources are helping us move forward in our planning process for green infrastructure. As a flood-prone community, we believe green infrastructure will help us help ourselves." 
— Mary Ellen Ramage, Manager, Etna Borough
The Penn State Center continues to work with six municipalities along the Allegheny and Ohio rivers — Natrona, Springdale, Sharpsburg, Etna, Carnegie, and Coraopolis — with the goal of enhancing the green infrastructure in each of these municipalities.
Shade Tree Commission
Shade Tree Commissions in the municipalities of Carnegie, Sharpsburg, and Etna will be created to discuss the many benefits that shade trees can provide, as well as study the problems and needs in connection with tree maintenance and planting. Additionally, the newly established commission will recommend appropriate trees to plant along street corridors; assess the need for tree preservation and tree protection; assess disease control; and provide education to the public on the benefits of shade trees.
The Penn State Center, in cooperation with the Penn State School of Forest Resources, will provide model ordinances and other information to those municipalities as they initiate the process of establishing the commission.
Design Charrette
Last fall the Center was involved in a design charrette for a gateway into Etna and Sharpsburg, as well as a primary gateway into Etna. The designs were collaboratively created by residents of Etna and Sharpsburg and will be developed by Josh Lippert, a fifth-year landscape architecture student, as part of his independent study. The Etna gateway is anticipated to be installed through PennDOT.
Downspout Disconnect Pilot Project
Another joint initiative between Etna and the center is the Downspout Disconnect pilot project. Led by the Pennsylvania Environmental Council, the project is a collaboration of Allegheny County, the Audubon Society of Western Pennsylvania, Etna Borough, Nine Mile Run Watershed Association, Pittsburgh Water and Sewer Authority, and The Penn State Center.
The program aims to reduce the amount of combined sewer overflow experienced in southwestern Pennsylvania. By disconnecting downspouts and directing the water from rooftops into rain barrels, rain gardens, bioretention, and vegetated areas, the amount of water which enters our municipal sewers, waterways, and the Allegheny County Sanitary Authority will be reduced. A series of five educational workshops on the topic will be delivered — three to municipal engineers and code enforcement officers, one to landscape contractors, and one to homeowners.