This summer, 11 Penn State students across 5 different colleges are spending the summer in Pittsburgh exploring urban sustainability and working with a community partner through the City Semester Pittsburgh program. Each student is placed with a partner for an internship based on their interests, strengths, and goals. Let's check in with one of the students, Julia Burton.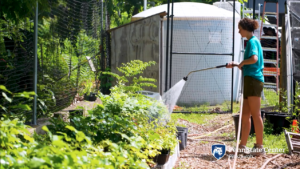 Name: Julia Burton
College: College of Agricultural Sciences
Major: Environmental Resource Management
Expected Graduation: 2023
City Semester Internship: Tree Pittsburgh
What are your general responsibilities at your internship?
I assist the Heritage Nursery staff with watering, fertilizing, transplanting, weeding, and planting seeds.
What is the most exciting and rewarding part of your internship?
Getting to interact with volunteers and learning about their backgrounds, interests, experiences, and what encouraged them to volunteer at Tree Pittsburgh.
How do you think this experience will help your future education or career path?
This experience allows me to be a small part of a big movement, which is making Pittsburgh a healthier, more sustainable city. It encourages me to become more involved with local sustainability efforts and gives me experience working with a nonprofit, which will help me in my future endeavors.
What are some of your favorite places and experiences around Pittsburgh this summer?
 Exploring downtown and checking out some of the places that I've always wanted to see!