This summer, 11 Penn State students across 5 different colleges are spending the summer in Pittsburgh exploring urban sustainability and working with a community partner through the City Semester Pittsburgh program. Each student is placed with a partner for an internship based on their interests, strengths, and goals. Let's check in with one of the students, Jackie Zheng.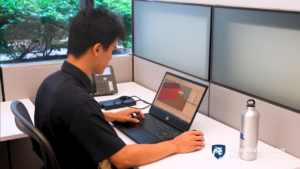 Name: Jackie Zheng
College: College of Arts and Architecture
Major: Architecture
Expected Graduation: 2025
City Semester Internship: Riverlife
What are your general responsibilities at your internship?
My primary responsibility is to assist in project planning, but I am also involved in designing, community outreach, and general office errands. 
What is the most exciting and rewarding part of your internship?
The most rewarding part of the internship is that I am able to work directly with leaders in Riverlife and other organizations in developing the Pittsburgh waterfronts. I have always wanted to experience what it was like behind the scenes in planning urban landscapes and urban community events.
How do you think this experience will help your future education or career path?
The experience has helped me understand some of the intricacies in relevant, but non-design-focused planning in urban environments, which will help me in my career.
What are some of your favorite places and experiences around Pittsburgh this summer?
The 15-mile biking trail that Riverlife plans to develop and the Mt. Washington overlook.