You've heard all about their time with the City Semester Pittsburgh program, now catch up with some of our alums and find out what they've been up to since they completed the program and how City Semester has impacted their future so far.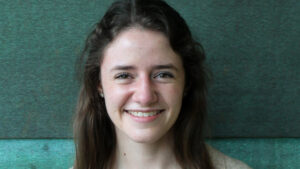 Name: Madison Borsos
Year Graduated: 2021
Degree: Bachelor of Landscape Architecture
City Semester Date: Spring 2021
Internship Partner: Ethos Collaborative
Where You Are Now
Madison is currently a Landscape Designer with Environmental Planning and Design, LLC.
What kind of work do you do?
Our office works on a range of landscape architecture and planning/zoning projects. My work mostly involves the landscape architecture side. I assist with the creation of conceptual plans and renderings for parks and public urban spaces, the development of cost estimates and construction document sets, and the writing and mapping of regional trail and greenway plans. A lot of our office's work is supported by both virtual and in-person public outreach strategies.
What does your day-to-day look like?
While the type of work varies widely from day-to-day and week-to-week, my typical day involves a lot of self-led tasks to support the landscape architecture projects in the office. I collaborate closely with the project managers to further refine the deliverables. In a week, I usually have between three and five projects to work on. Most recently, I have taken on some small project management tasks, such as communicating with the client and subconsultants for one of our park development projects.
What is your biggest professional accomplishment so far?
This might be an unusual answer, but I changed jobs almost a year ago and was able to take a position working on projects that are much more closely aligned with my long-term career goals. I have made bigger strides and become more confident in my current position compared to my former position because I feel connected to the work I'm doing.
Your Time with City Semester
What was the biggest thing you learned during your time with City Semester?
City Semester showed me how many different sides of sustainability must be considered at a city scale. Before the City Semester, I was mostly aware of the sustainability issues that involved design (such as water, greening/planting strategies, solar energy, or green building certifications) but the scope of topics covered during the City Semester broadened my understanding of all the components that impact sustainability. 
Which topic during the urban sustainability class did you enjoy learning about most?
I really enjoyed learning about the sustainability and challenges of water in Pittsburgh. The city is known for its three rivers, but there are many other facets of Pittsburgh's water and stormwater systems that threaten the quality of streams and rivers in the region. Stormwater management is prevalent in my profession and it is one aspect of Pittsburgh's sustainability that I encountered frequently throughout school and in my City Semester internship.
How did your internship prepare you for where you are now?
My internship with Ethos Collaborative gave me the opportunity to work closely with professional engineers, which helped me become familiar with the engineering side of stormwater management, including the terminology that describes strategies and structures used in the field.
What advice would you give to a new student just starting with the program?
Don't be afraid to ask questions! Your internship leader (and even the guest speakers) have been in your position before, and they're probably very excited to hear when you're curious or want to improve your understanding of a subject.
Living the Sustainable Life
When did sustainability first become important to you?
As a freshman, I was in Penn State's architecture program. I joined a club called SEED (Students for Environmentally Enlightened Design), which first exposed me to the way that sustainability can be incorporated into architecture and other design professions. I ended up transferring to the landscape architecture program after my freshman year because it enabled me to work even more closely with landscape-based sustainability strategies.
What's your favorite sustainability hack/tip?
In addition to sustainability in my profession, I try to incorporate sustainable actions in my personal life. My personal favorite is switching from hair care products in plastic bottles to using shampoo and conditioner bars. Plastic recycling is unreliable at best, and the bars tend to last much longer and come in recyclable or compostable packaging.
Fast Facts
Last book you read?
The Overstory by Richard Powers
Favorite Penn State memory?
Being selected as the Landscape Architecture Department's Olmsted Scholar for 2021
If you were a plant/flower, what would you be?
The common poppy (Papaver rhoeas) — a symbol of my Polish heritage
Best Instagram account to follow?
@tylerthrasherart
Best Creamery ice cream flavor?
Peanut butter swirl
Check out the rest of our Catching up with City Semester Alums series!