You've heard all about their time with the City Semester Pittsburgh program, now catch up with some of our alums and find out what they've been up to since they completed the program and how City Semester has impacted their future so far.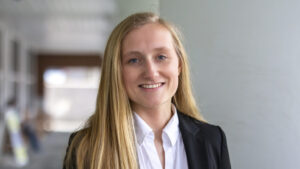 Name: Emily Kiver
Year Graduated: 2021
Degree: B.S. in Earth Science and Policy, B.A. in International Politics
City Semester Date: Summer 2020
Internship Partner: The Pennsylvania Solar Center
Where You Are Now
Emily is an analyst with Avascent.
What kind of work do you do?
Avascent is a government-sector consulting firm with expertise in the defense and aerospace industries. We work with clients to identify and capture opportunities, form business strategy, and analyze the competitive environment so that our clients can position better for growth.
What does your day-to-day look like?
I largely work in PowerPoint, creating and assembling presentations for clients that lay out our research and theses on the topic that the client has asked us to research, and Excel, developing market models for specific goods and services based on large datasets and research-based assumptions.
What is your biggest professional accomplishment so far?
I've presented portions of slide decks to senior leadership at several major defense firms, which has been nerve-wracking but really rewarding and empowering.
Your Time with City Semester
What was the biggest thing you learned during your time with City Semester?
I learned about the massive efforts that go behind every piece of legislation that promotes renewable energy and/or addresses climate change, and about all of the amazing and selfless people that do so much work to pass these bills that drive positive change for our world.
Which topic during the urban sustainability class did you enjoy learning about most?
I really enjoyed learning about sustainable city planning and urban design. Although I'm not necessarily interested in architecture or design, I thought the potential to design pedestrian-friendly and environmentally friendly cities that were more efficient, beautiful, and sustainable was exciting and eye-opening.
How did your internship prepare you for where you are now?
I think being immersed in a team working environment at the Solar Center was particularly helpful for my current work as an analyst. At the Solar Center, our small team of four was able to divide and conquer our workload effectively and manage a larger team of Solar Ambassadors; and these team- and people-management skills helped me become a better team player in my current job working with small teams and clients.
What advice would you give to a new student just starting with the program?
Embrace the experience and try to learn as much as you can from both the course topics and the internship experience. Form lasting relationships and get to know the people and the areas you are working with, because they are the heart and soul of the City Semester experience!
Living the Sustainable Life
When did sustainability first become important to you?
When I first learned about the potential impacts of climate change when I was about six or seven years old. I knew that we had to do something and that I had to do my part to live more sustainably.
What's your favorite sustainability hack/tip?
Try shopping more sustainably and avoid plastic packaging if paper is available!
Fast Facts
Last book you read?
The Brothers Karamazov by Fyodor Dostoevsky
Favorite Penn State memory?
Studying abroad in Besançon, France
If you were a plant/flower, what would you be?
Rose (it's my middle name!)
Best Creamery ice cream flavor?
Peanut Butter Cup
Check out the rest of our Catching up with City Semester Alums series!