You've heard all about their time with the City Semester Pittsburgh program, now catch up with some of our alums and find out what they've been up to since they completed the program and how City Semester has impacted their future so far.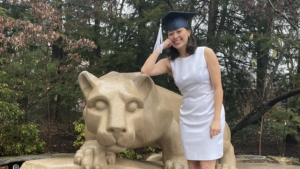 Name: Charlotte Tang Schmitt
Year Graduated: 2021
Degree: Bachelor of Landscape Architecture, Minor in Sociology
City Semester Date: Summer 2021
Internship Partner: Brashear Association
Where You Are Now
Charlotte is currently a landscape architectural designer at Bernardon in Philadelphia, PA.
What kind of work do you do?
Since graduation, I started working full-time as a landscape architectural designer at a multidisciplinary firm. As a landscape designer, I work on a wide variety of projects ranging from large-scale mixed-use planning to multifamily residential projects, commercial retail sites, educational facilities, and smaller scale designs such as courtyards.
What does your day-to-day look like?
Mainly working in an office to create construction documentation/graphics for our projects after we are done with the conceptual design phase. I also email or meet with clients to discuss our work. I have the occasional site visit to inspect our projects or check out completed sites to see how they are doing as well.
What is your biggest professional accomplishment so far?
Creating a new planting plan for a project in Austin and having to do research to choose the proper plants that are native to the area, since normally the work I have been doing is local to the Mid-Atlantic region.

Your Time with City Semester
What was the biggest thing you learned during your time with City Semester?
As a city, Pittsburgh has great policies that are supported by not only government organizations, but also smaller nonprofit organizations that are all working toward the same sustainability goals. It was really inspiring to learn that sustainable practices can actually work long-term in larger communities, not just at an individual level. And while sustainability is important to accomplish at a large-scale globally, it starts within your own community.
Which topic during the urban sustainability class did you enjoy learning about most?
I really enjoyed learning about sustainable community designs with Frick Environmental Center and Phipps Conservancy, and how they evolved over time. These are the types of projects I hope to work on as a professional landscape architect.
How did your internship prepare you for where you are now?
I learned how to take initiative to get work done, and to not be afraid to ask questions when I need help or clarification. I also learned effective communication strategies through interacting with employees, board members, clients, and Pittsburgh community members during my time at the Brashear Association. I learned a lot by visiting the different offices of Brashear and attending various committee meetings to get feedback on my ideas. This prepared me for my job now when I speak with clients and present my ideas to them.
What advice would you give to a new student just starting with the program?
Make strong connections with the people in the program and through your internship partner! Take good notes during the lectures — there are many valuable resources shared in them. Also, if it's in-person, be sure to explore all the fun things Pittsburgh has to offer while you're there!
Check out the rest of our Catching up with City Semester Alums series!