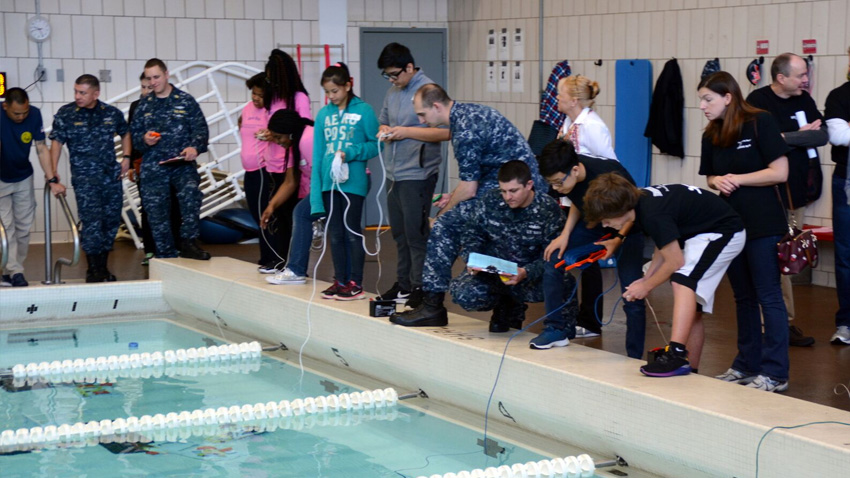 PITTSBURGH, Pa. — More than 100 students and educators from western Pennsylvania schools will compete in the 2017 Pittsburgh Regional SeaPerch Competition from 9:00 a.m. to 4:00 p.m. on Saturday, April 8, at California University of Pennsylvania. Penn State Center Pittsburgh, United States Navy City Outreach, and Navy Recruiting District Pittsburgh partnered to facilitate the regional contest.
SeaPerch is a national underwater robotics educational program sponsored by the United States Office of Naval Research. It is designed to engage students by using a hands-on approach to STEM: science, technology, engineering and math learning experiences. The goal of the competition is for participating teams to build an underwater, remotely operated vehicle (ROV); test the ROV; deploy it on missions; and then compete. The winner of the regional contest will advance to the national competition in Atlanta. MCC (SW/AW) George R. Kusner III from the Navy Recruiting District Pittsburgh said the U.S. Navy places a high priority on STEM outreach.
"The Navy encourages America's emerging leaders toward science and engineering disciplines," Kusner said. "Even though our goal is to attract some of these bright students to lead our future Navy, we realize that every student that pursues advanced education in STEM will help to enrich our great nation."
Penn State Center Pittsburgh worked to bring the students and educators from each of the 21 participating schools together to train for the event. Robert Ware, youth development and urban 4-H educator for Penn State Center Pittsburgh, said SeaPerch offers participants unique opportunities for practical application of their studies.
"The ability for a student to understand that the concept of a ROV has viability in marine environments, as well as terrestrial-based environments, opens up doors for the student," Ware said. "We, as educators, always seek moments of discovery for students. Through the SeaPerch build and the competition, we are able to see these moments with greater regularity as it relates to marine engineering specifically — and STEM or STEAM more generally."
Participating schools include: Baldwin Whitehall Middle and High School, Bethel Park High School, The Citizen Science Lab, Franklin Regional High School, Gateway High School, Greater Latrobe High School, Greensburg Salem High School, Harrison Middle School, Higher Achievement Pittsburgh, Hopewell High School, Imani Christian Academy Middle School, Manchester Academic Charter Middle School, Norwin High School, Penn Hills High School, Propel Homestead Middle School, Ringgold High School, South Hills Interfaith Movement 4-H, Trinity Christian High School, Urban Academy of Greater Pittsburgh Charter School, West Allegheny Middle School, and West Mifflin Middle School.
For more information, visit SeaPerch.