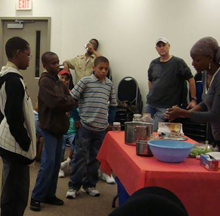 In many low-income urban neighborhoods, residents do not have access to fresh produce or other healthy food. Students in a food products marketing course participated in a project to develop a food retailing plan for eight marginalized communities in the Pittsburgh area.
To kick off the project, Deno De Ciantis, director of the Penn State Center and former board president for the Pittsburgh Food Bank, and Lisa Scales, chief operating officer, Greater Pittsburgh Community Food Bank, visited the class to discuss food distribution and the related problems in these communities.
"Deno and Lisa's interaction with the students was very valuable. The students were able to gain a better perspective on how severe the issue of food access in Pittsburgh is, as well as on what the city's structural issues and the socio-demographic characteristics of the consumers in the different neighborhoods of the city are," explained Alessandro Bonanno, assistant professor of agricultural economics. In their market analysis, the students profiled the local residents as well as the structural challenges and competition to identify the characteristics of a food retail outlet that would be most likely to succeed in the communities.