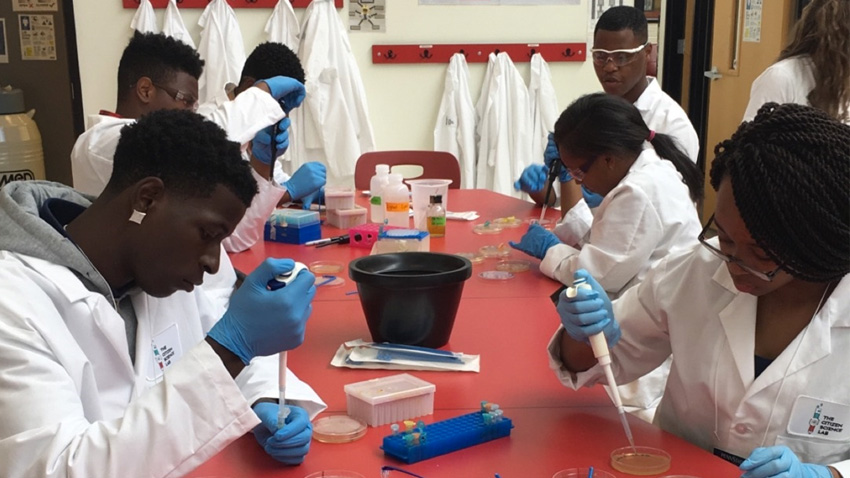 UNIVERSITY PARK, Pa. — The pilot program for the Penn State Community Innovation for Youth (CITY), an initiative created to help at-risk students in the Pittsburgh area transition to adulthood by achieving academic success and financial independence, is underway. The first student cohort to participate in Penn State CITY includes juniors and seniors selected from Urban Pathways Charter School and the Three Rivers Workforce Investment Board's Learn and Earn 2016.
Students are expected to complete a two-year program that will be organized around mentorship, service learning via community engagement, and STEAM education: science, technology, engineering, arts, and mathematics. The summer schedule includes sessions about personal branding and finance, urban design, civic engagement, food systems, and hands-on learning opportunities at the Duquesne Citizen Science Lab, Center for Creative Reuse, and Pittsburgh Filmmakers. Each student will be assigned a mentor in business and leadership who will be selected from CITY partners and the Penn State Alumni Association in Pittsburgh.
Penn State CITY was the vision of Robert Tunno, special adviser for Industrial Growth Partners and advisory board member at the Penn State Center Pittsburgh and Penn State Outreach and Online Education. Tunno said he wanted to give at-risk youth an opportunity to see what is possible in the communities around them.
"I believe inner-city kids have so much working against them. My wife, Patty, and I hope the Penn State Center Pittsburgh and engaged alumni can provide these students with a clear pathway to realize dreams through good example and quality education," Tunno said. "I believe (the program) can be used as a blueprint in other cities in Pennsylvania, however, there are many programs like this and so our focus has to be clear and the execution exemplary."
Robert Ware, 4-H educator for the Penn State Center Pittsburgh, is the organizer for the program. Ware said he wants to be sure students' success will go beyond metrics.
"Success will be measured in the dispositional change of each student — for each student to be more in tune with the needs of the community at large and to be an asset to their community," Ware said. "What that will look like for each student will be individualized based on the impact [the program makes] to their everyday lives and how they look at the road ahead — whether it's to have a plan to go on to college, military, or trade school — we want to be the conduit between the student and their postsecondary options."
The Penn State Center Pittsburgh works with Pittsburgh neighborhoods and Allegheny County municipalities to utilize Penn State resources to help further community and economic development initiatives and advance environmental and quality of life projects.