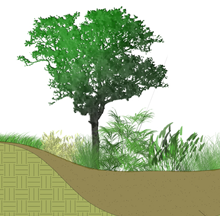 Six municipalities and communities along the Allegheny and Ohio rivers — Natrona, Springdale, Sharpsburg, Etna, Carnegie, and Coraopolis — are working with The Penn State Center to take a greener and more collaborative approach to addressing common infrastructure problems.
"We're giving them training and tools to take a more environmentally and economically sustainable approach," explained Lisa Kunst Vavro, sustainable landscape coordinator at The Penn State Center.
Three projects are currently underway — establishing a community greening plan and shade tree commission in all six communities, facilitating the design process for new community gateways to be installed by PennDOT for Etna and Sharpsburg, and implementing the initiative called Downspout Disconnect.
Etna is serving as the pilot municipality for this Allegheny County program to "keep the rain out of the drain." The program uses downspout disconnections, rain barrels, and rain gardens to better manage combined sewer overflow and storm water. Led by the Pennsylvania Environmental Council, Downspout Disconnect is also supported by the Audubon Society of Western Pennsylvania, the Nine Mile Run Watershed Association, and the Pittsburgh Water and Sewer Authority.