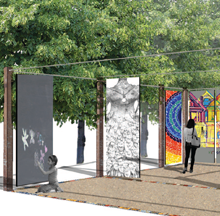 The Pittsburgh Green Innovators envision a fully sustainable campus system that supports a superlative quality of life and serves as this city's emerald jewel.
It engages multidisciplinary teams from business, labor, government, nonprofits, and universities, as well as experts from around the world who employ the science of sustainability to meet modern global challenges and provide world-renowned leadership in clean, green innovation.
The Green Innovators will energize this region by advancing a blended economy that uses the best of Pittsburgh's work ethic and skilled labor to position this region as a global leader in The Natural Steps Principles.
The objectives of Green Innovators is to educate the consumer, maintain an adequate and appropriately trained green-collar workforce, grow new companies, develop and promote new technologies, and further research in all related fields. The building itself will be a demonstration and keystone of Pittsburgh's strength in environmentally global thinking. This physical space will support education and training, and university research and development efforts — engaging multinational corporate interests, specifically in the growing market sector of green business. The facility is an existing, underused building that will be retrofitted to become highly functional and environmentally friendly.