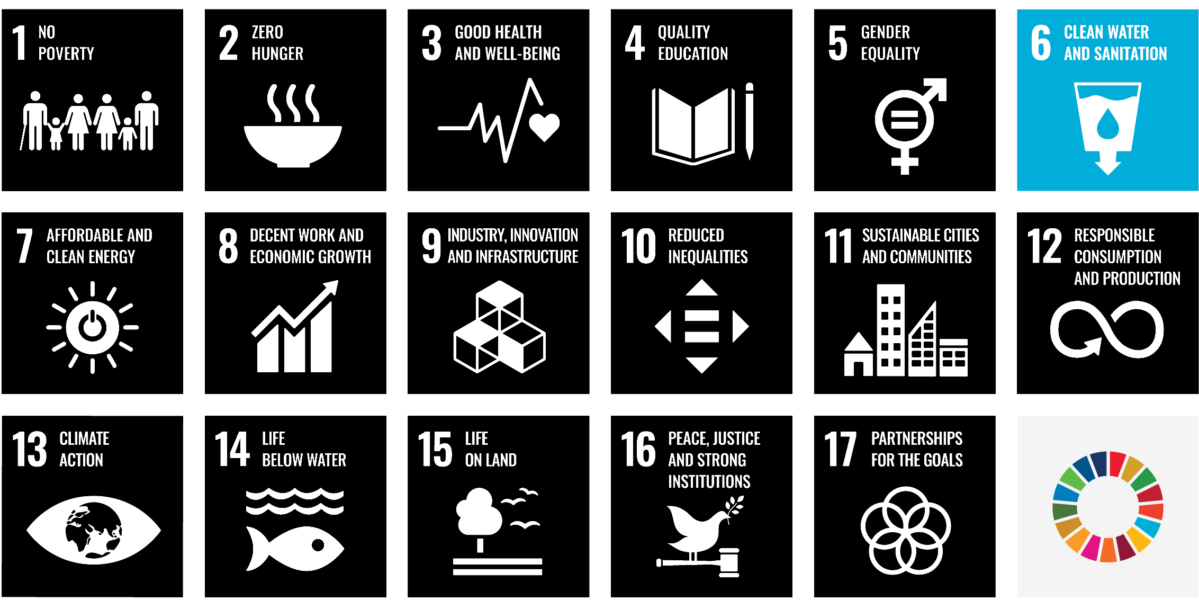 What does a more sustainable future look like in Pittsburgh? Our team will take a deeper look at each of the 17 UN Sustainable Development Goals (SDGs) developed in 2015 by the United Nations General Assembly as part of the 2030 agenda for Sustainable Development. Each of the 17 goals are interconnected and act as a blueprint for creating a better world for all.
Did you know that more than a quarter of the world's population does not have access to clean drinking water, and nearly half do not have access to basic sanitation (according to a 2023 report from the United Nations)? This is why the United Nations has made it a priority to address this issue through Sustainable Development Goal (SDG) #6 Clean Water and Sanitation, which aims to ensure availability and sustainable management of water and sanitation for all by 2030.
The city of Pittsburgh has its own sustainability plan, known as the Pittsburgh Climate Action Plan 3.0, which recognizes the importance of SDG #6 and prioritizes improving its water and sanitation systems. Over the past several years, Pittsburgh has taken important steps toward ensuring that everyone in the city has access to safe and affordable drinking water and sanitation services, including investing in updating aging infrastructure and implementing innovative programs.
Achieving this goal across the world will likely require strong political commitment, financial investments, and innovative technologies and approaches. But there are ways we can start making an impact in our own communities and organizations already doing the work.
Six ways Pittsburgh communities can support UN SDG #6
Conserve water
Reduce water consumption by fixing leaks, using low-flow fixtures, and taking shorter showers. This can help conserve water resources and reduce the strain on the city's water infrastructure.
Properly dispose of waste and recycle
This can help reduce pollution and protect the city's water resources.
Support green infrastructure
Green infrastructure, such as rain gardens, infiltration beds, permeable pavement and planting trees, can help reduce stormwater runoff and improve water quality.
Participate in community clean-up events
Organize or participate in community cleanup events to remove litter and debris from streets and waterways.
Advocate for water affordability
Work with local organizations to advocate for water affordability for low-income residents.
Educate others
Raise awareness about the importance of clean water and sanitation and the actions they can take to support SDG #6.
Six organizations committed to supporting goal #6 in Pittsburgh
Pittsburgh Water and Sewer Authority (PWSA)
PWSA is responsible for providing safe and reliable water and sewer services to the residents of Pittsburgh. They work toward improving water quality, managing stormwater, and addressing infrastructure needs.
Allegheny County Sanitary Authority (ALCOSAN)
ALCOSAN is responsible for treating wastewater for the Pittsburgh area and focuses on protecting water quality and promoting sustainable wastewater management practices.
3 Rivers Wet Weather
This organization works on regional stormwater management efforts and collaborate with local municipalities to develop and implement strategies for reducing stormwater pollution and improving water quality.
Clean Water Action
Clean Water Action is a grassroots organization that advocates for clean water and environmental protection. They work on various campaigns and initiatives to promote clean water, sanitation, and healthy communities.
Upstream Pittsburgh
This organization focuses on the restoration and protection of the watershed, addressing stormwater management, and improving water quality through green infrastructure and community engagement.
Three Rivers Waterkeeper (3RWK)
3RWK improves and protects the water quality of the Allegheny, Monongahela, and Ohio Rivers. 3RWK is a scientific and legal advocate for the community, ensuring our three rivers are protected and safe to drink, fish, swim, and enjoy. ​
Learn more about the UN SDG #6 and ways to get involved
Check out the rest of our blog posts on UN Sustainable Development Goals