This summer, 11 Penn State students across 5 different colleges are spending the summer in Pittsburgh exploring urban sustainability and working with a community partner through the City Semester Pittsburgh program. Each student is placed with a partner for an internship based on their interests, strengths, and goals. Let's check in with one of the students, Lydia Neuhauser.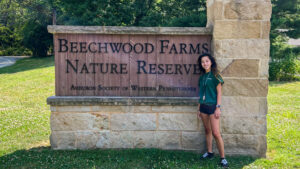 Name: Lydia Neuhauser
College: College of Liberal Arts
Major: Global and International Studies: Health and Environment
Minor: Sustainability Leadership, Spanish, Environmental Inquiry
Expected Graduation: 2024
City Semester Internship: Audubon Society of Western PA, Beechwood Farms Nature Reserve
What are your general responsibilities at your internship?
I help to run summer camps for children in grades k–6, planning all activities and supervising middle and high school–aged leaders. 
What is the most exciting and rewarding part of your internship?
I love interacting with the children that come to the summer camps daily. I have met many campers each week, as we get new ones weekly. I have enjoyed getting to know the campers from each week, and I have been able to step into the mind of curious learners. The most rewarding part of my job is knowing that I am making a positive impact on the Earth by offering fun outdoor experiences for impressionable children. 
How do you think this experience will help your future education or career path?
I think that this experience is helping me recognize the importance of our future generations and how we need to give them positive experiences in order for them to want to make a difference in the world. Especially in terms of sustainability, helping children love the environment is a great step to a cleaner environment. 
What are some of your favorite places and experiences around Pittsburgh this summer?
I enjoy the Mount Washington lookout. I have been up there a few times, and it is a perfect spot to admire the city. I do not have a lookout like that in my hometown of Hershey, and it is a nice place to get away.