This fall, two Penn State students are spending the semester living and learning in Pittsburgh through a one-of-a-kind immersive experience. The City Semester Pittsburgh program is hosted by Penn State Center Pittsburgh and aims to provide students with a unique and educational opportunity to work on research and real-world projects addressing urban sustainability in the Pittsburgh area.
"This is an experience unlike any other for Penn State students," said Tom Bartnik, director of Penn State Center Pittsburgh. "These students get to live in one of the country's most resilient and livable cities and be part of hands-on projects that will likely impact their future and the future of the community. We have an engaging group of students this semester who have been learning interesting lessons in the classroom and working hard to apply that knowledge outside of the classroom."
This semester, the Center welcomes two new students to the program: Paul Pietrinferni and Devin Walk. The two applied to the program and were placed with community partners for a semester-long internship that fits their interests and career goals. The students are required to serve at least 20 hours per week at the internship, while completing ongoing course work.
Paul, an earth science and policy major in Penn State's College of Earth and Mineral Sciences, has been interning with the Pennsylvania Solar Center and Hot Earth Collaborative, LLC, this semester. Through this placement, Paul has been at the forefront of renewable energy policy at the state level.
Working closely with the director of the Center, Paul has helped to coordinate policy and legislative activities and engage both community and business leaders in solar-related activities and events and solar projects for nonprofit organizations. He is set to graduate in May 2020.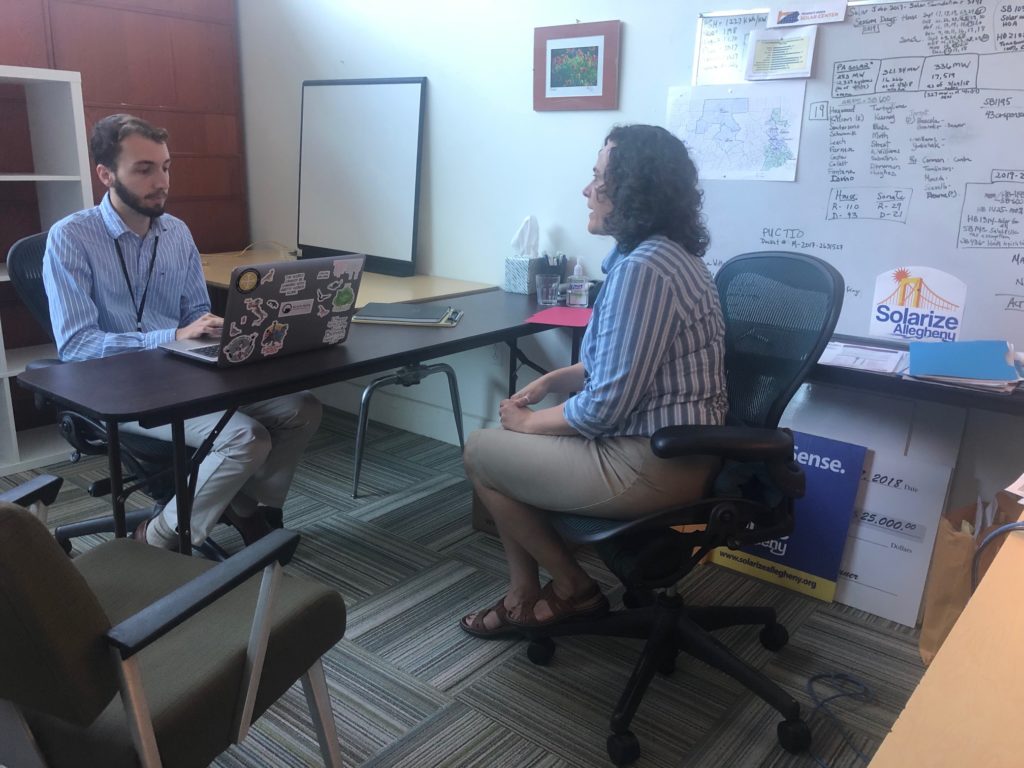 "Paul is a very valuable team player and has stepped in and started contributing from day one," said Sharon Pillar, founder and executive director, Pennsylvania Solar Center. "We recently traveled to the capitol with 16 renewable energy companies and visited a total of 17 legislators among our group. Paul set up all of those visits and had some very good perspectives to share with legislators."
Devin, a recreation, park, and tourism management major in the Penn State College of Health and Human Development, expects to graduate in May 2020. He was partnered with PPG Paints Arena for his internship, specifically within the operation department.
Throughout the semester, he has had the opportunity to manage and delegate setup and breakdown for a variety of events, including concerts, shows, and Pittsburgh Penguins games. PPG Paints Arena is one of Pittsburgh's leading entertainment venues and a LEED Gold Certified facility.
"My internship has been a great learning experience," said Devin. "It has allowed me to see firsthand how a major venue is managed and operated throughout its different seasons. It has been very beneficial to my career goals of working in a professional sports venue."
During the program, students also complete a course on urban sustainability as well as any additional online courses or independent study necessary to fulfill their major or minor requirements. The Urban Sustainability course is taught by Lisa Kunst Vavro, Sustainable Communities and Engaged Scholarship manager at the Center, and aims to help spotlight a multifaceted perspective on urban sustainability and resiliency. Over the 16-week course, Lisa leads educational discussions on readings and videos related to sustainability in an urban setting.
The course also includes guest speakers to bring insight to the challenges of applying sustainability principles at the local and regional level. In the past few years, the program has kicked off with Grant Ervin (chief resilience officer for the City of Pittsburgh) and his presentation on the question "What is Sustainability?" Other speakers and topics have included Justin Stockdale (western regional director for PA Resources Council) on Urban Waste; Jim Price (Sustainable Pittsburgh) on Civic Volunteerism; and Dr. John Stolz (director of the Center for Environmental Research and Education at Duquesne University) on "Industrial Ecology and the Greening of Production."
While the course takes place at Penn State Center Pittsburgh's classroom space in the Energy Innovation Center, students also participate in two field days throughout the semester. For the first field day this fall, the group traveled to some of the city's revived communities, including Oakland, Hazelwood, and Larimer. They observed these neighborhoods that were left behind when Pittsburgh shifted from an economy anchored in the steel industry to an innovation economy, but are now moving forward through sustainable measures and revitalizations.
Later in the semester, the students explored green buildings and their educational programs, including Phipps Conservatory and Botanical Gardens – Center for Sustainable Landscapes (one of the greenest buildings in the world), The Frick Environmental Center, and Tree Pittsburgh Education Center. At each site, students learned about each building and how they contribute to sustainable design principles.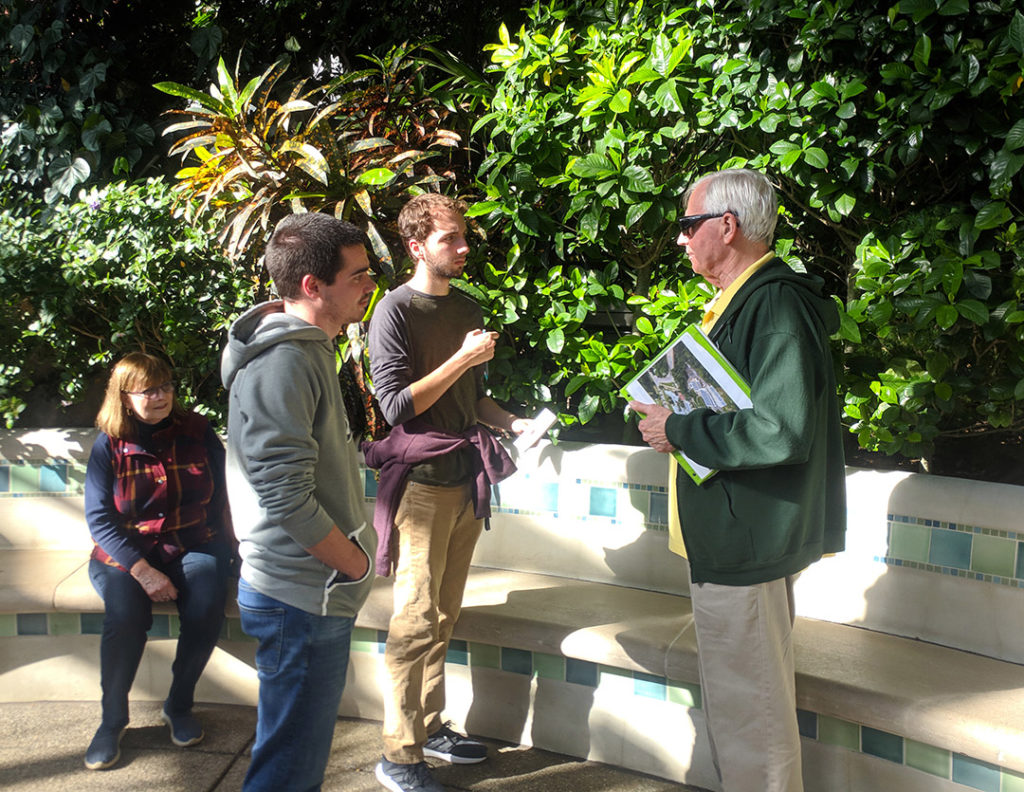 In an additional component of the course, students are tasked with creating a video to showcase their experience. At the end of the semester, they gather for an open house event at Penn State Center Pittsburgh to talk about the program and present the video to community partners, Center staff, and Penn State leaders.
In past sessions of the program, City Semester Pittsburgh students have completed internships with the Pennsylvania Environmental Council, Urban Redevelopment Authority, Allegheny Conservation District, Green Building Alliance, Fourth Economy, and Center for Victims.
For more details on City Semester Pittsburgh, visit the City Semester Pittsburgh website.