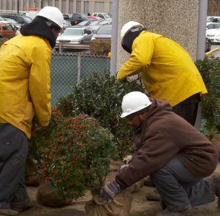 The deconstruction of the 50-year-old Mellon Arena will bring the Pittsburgh area a new look as well as an opportunity for local businesses. The Penn State Center, in partnership with Rosedale Block Cluster, Inc., and Bey Brothers Landscaping, salvaged more than 200 plants from the Civic Arena site in late November.
The project provided employment, education, and the chance for the communities of Beltzhoover and Homewood to take steps forward in their landscape business process. Rosedale Block Cluster and Bey Brothers Landscaping excavated, balled, and burlapped hollies, burning bushes, viburnum, and more. The Penn State Center provided on-the-site training of proper techniques for transplanting.
The project's goal is to maintain the material in nurseries located in Beltzhoover and Homewood, and re-sell the plants from the nurseries or re-use the plants in other landscapes. The plants that do not sell will be strategically planted in vacant lots throughout the Homewood and Beltzhoover communities.
Read more in the Pittsburgh Post-Gazette